Let It Rain
May 2, 2009
He creased his page at exactly seven. He did it ritualistically, as if the world would fall apart if he didn't do it. He wasn't even sure why he did it. Perhaps it was because it was the only orderly part of his life. He closed the book and sat reflectively for awhile to give the story time to sink in, take on meaning.

He decided to walk to work that day sans coat. He didn't need that old thing weighing him down. Cars gave him a sense of urgency, as if he had to get there NOW just because he had the horsepower to do so. He didn't much like it. Besides, the less time he spent in his cubicle, the better.

And so he walked, stopping here and there to enjoy the scenery, and by the time he punched in he was nearly an hour late. Oh well.

At his desk there was a neon pink post-it stuck on his computer monitor. It said that he was being fired for inconsistency. It was exactly the pick-me-up he needed. He left his stuff in the desk. After all, where would he be needing office supplies in the near future? What mattered was now.

Outside, the rain came down in sheets. He didn't have a coat, but he was just content to let it rain. He walked along at a leisurely pace as the rain soaked through his blue work shirt to the undershirt beneath.

He took off the shirt and tossed it into the river that had formed along the side of the road. A blue-collared shirt for a blue-collar job. It was picked up in the torrent and carried away.

And since there was no way of knowing exactly where it was going, the man walked on.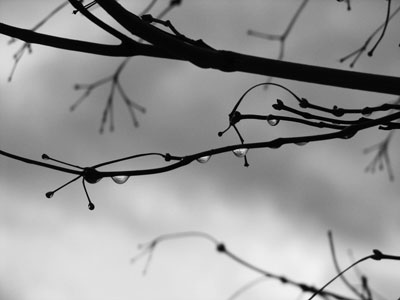 © Carly M., Hopedale, MA