The Sweet Scent of Nostalgia
March 27, 2019
"Keep?" Mom holds up a broken snowman toy that's missing a foot. Her expression is blatantly sore, with her clearly becoming agitated with my emotional connection to an overwhelming amount of junk.
"Nah," I tell her hesitantly, hoping that getting rid of at least a few things will appease her. "Just toss it." Still, I can't help but watch a collage of memories flash before my eyes.
With no remorse, she stuffs it in the black trash bag, and tosses the cardboard box aside. That was what, her third one? No wonder she's getting annoyed with me. It's taken me over an hour to get through just half this box, and I haven't even thrown away half of the junk.
Everyone I know knows that about me. "Yeah, Eve," my friends relentlessly tease me. "Who need heroin when you have nostalgia?" Though I don't like to admit it, their jokes describe me all too well. I'm the one constantly bringing up hilarious memories from elementary school, or ruthlessly continuing traditions for the sake of memories.
Why did Mom pick me to go through all of the old crap?
There's really not much left in this box; just some century old tissue paper, some rusty old Hot Wheels toys, and…
What is that?
A small crimson cylinder rests innocently at the bottom of the box, forgotten amidst the explosion of old confetti and tissue paper. I pick it up...and…

I pick it up...and...bring it to my face…

With a sliver of hesitancy, I breathe in deeply, taking in the scent.

The pungent smell of cinnamon softly stung my nose, and a symphony of memories played under my closed eyelids.

Why do I feel like this has happened before?

Christmas...pine trees...a broken ornament that was always hung up anyways…

It must have happened before.

Snickerdoodle cookies...a hearty oven warming up a kitchen…

I'm willingly stuck in this bubble, filled with cinnamon and pine and snickerdoodles. Despite the clouds of sudden nostalgia, there's a part of it that feels insanely familiar, like I've watched it play out in a movie or in a story before. Though I've nearly forgotten Mom is there, I half expect her to ask "Keep?", as if I've prophesied it in a dream.
"Keep?"

And with that one syllable, the bubble bursted.

I look up at her in disbelief. For some reason, it takes me a moment to realize that there's nothing in her hand, and she's simply looking at me for an answer. At my confused face, she nods briefly towards the item in my hand…
I looked down at the fragile glass candle in my hand, so innocent and yet so full of memory and emotion… I couldn't help it. I knew what would come next.
"Nah," I said, rolling it around in my hand one last time. "I'll just toss it."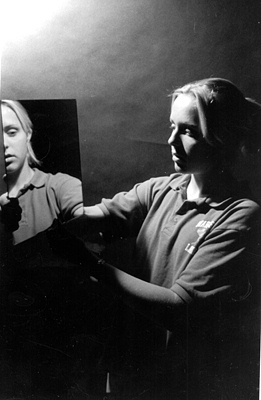 © Hadley B., Marblehead, MA