Lost and found
December 6, 2018
I looked down from the bridge into the icy blue waters. I took a deep breath and shivered in the cold. Was I really going to do this?

I was too far gone to step down from that ledge. I had been struggling for months now, desperately missing my sweet Julia. I lost everything when I lost her. I exhaled and drifted into my best memories of her.
"Honey, I made you some tea!"
"Thanks, love. Is Marge asleep?"
"Yes, I put her down for a nap just a bit ago."
"Good. She seemed really tired."

Marge was a 2-year-old girl we adopted a year ago. She was so joyful, so energetic, so loving of Julia and I. She had this wonderful curled-up brown hair, lovely hazel eyes, and a smile that could melt away even the most troubling of situations. When Julia left me, she took little Marge.

"Oh, I'm sorry."
"No, no, it's no problem. I was just going home to change this shirt anyway."
"Are you sure?"
Julia and I had bumped into each other at a train station, the first time we met, and I spilled my hot tea all over my new dress shirt. Her stunning eyes met mine, and I knew there was something special between us.

"My name is Julia."
"I'm Alex. Nice to meet you."
"Are you sure your shirt is ok?"
"Yeah, it's pretty old. I was going to pitch it soon."

That was about 5 years ago. Since then, we've been through so much good… and bad.

"Alex, I need this job! Not just for me, but for you and Marge too!"
"No, I can't let you go, it's too dangerous!"
Julia was applying to be an FBI agent, of all things. I loved her and wanted to protect her. The last thing I wanted was to lose her. But no matter what I did, I was going to lose her anyway.

"Wait! Julia! Please don't go!"
Tears filled my eyes as I pleaded for her to stay.

"I'm sorry Alex, it's what has to be done."

That was the worst day of my life. I lost the person who I loved most in life, and she took our precious Marge with her. I left 6 voice messages on her phone that night. One went like this:
"Julia, this is Alex. Look, I'm sorry about today. You can come back home, I'll even let you take the job. Please come home. I love you."

I never got a response.

2 months ago, that's when all this happened, but I still can't seem to get a grip on myself. Everything has gone downhill. I quit my job, and spent all my time at home, mourning over my losses. And now, I'm here, standing on this bridge, about to end it all.

"Hey, what are you doing?" A small voice shouted behind me. It sounded oddly familiar. I turned around to see none other than my baby Marge! Was I dreaming?
I ran to her and scooped her into my arms.

"Oh, sweetie! I missed you! Where's mommy?"
"I dunno…" She said looking puzzled.
"Well, let's go find her."

We walked through the park for at least an hour, looking for Julia. Marge started to fuss and get upset. "Don't worry baby, we'll find her."

We turned a corner, and a woman was sitting on a bench, reading a book. I recognized the book she was reading. "War and Peace" by Leo Tolstoy. I gave a copy to Julia for her birthday last year.

"Happy birthday, love!" I exclaimed while handing her a gift box.
"Oh, what is it?" She asked, excitedly tearing into it.
"War and Peace? How on Earth do you expect me to read all this?"
My face flushed in embarrassment.
"I'm just kidding! I love it!"

"Julia!" I yelled running toward her, my heart racing in excitement.
She looked up from her book and was surprised by my presence.
"Alex?"
She got up and we hugged each other, and I suddenly felt whole again. My world, my Julia, my Marge, they were all back!

"I'm so sorry. I really missed you!"
"I missed you too! Why didn't you come back?"
"I was scared to. Looking back, it was the worst mistake of my life. Alex, you're the greatest thing that's ever happened to me. I was foolish to let you go."
"Promise me you'll stay."
"Of course! I love you!"
"I love you too."
1 Year Later

"You ready"
"Yeah, I think so."

I set the flowers on the ledge, remembering the events from the year before.
Julia saw the discomfort in my face and put her hand on my shoulder.
I looked at her and smiled.
Marge tugged at my coat, and I picked her up to let her lay a flower with the others.
"Whew, it's chilly. Let's go home."
We all held hands and strolled away.

"Alex? Have you ever wondered what would've happened if you'd jumped?"
"I guess not, why?"

"Well, I wonder about it every day. About how bad it would be if I lost you for good. I was planning on coming back that evening, but I saw you earlier than I expected. Funny how things sometimes work out that way."

"Yeah, it sure is. But you don't have to worry anymore. You're here, I'm here, we're hap-"

"What about me?" Interjected Marge. "You're here too," I said with a giggle, "My point is, we're a happy family, and I love you. Both of you."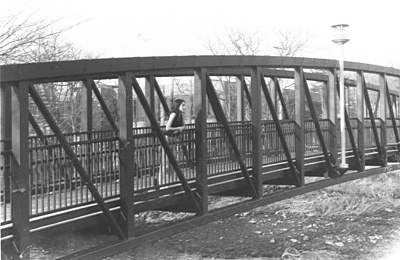 © Kim L., Milford, CT