Matched by Notes
December 6, 2018
I was hoping with my entire being that the boy sitting next to me couldn't hear the thumping of my heart. We had been matched together to play in a violin duet, and it wasn't my first time. My face paled at the thought of playing with someone else. Ecspecially him. Ever since the incident in third grade, I planned to avoid him in for the rest of my life. But he would hear all my mistakes. Sharing my song. Sharing my fame. We walked into the practice room and tuned my instrument. The quivering sound filled the room.
"Alana, Carter, you're on in 5 minutes."
Oh, shoot. We were told to practice with one another, but we wanted to avoid that. The idea of it was like putting two tigers into a cage together. What do you get? Bad. So we agreed to avoid the subject and the thought whatsoever. We had planned to do it once we had reached the concert room but that idea looked like a lost cause. We advanced to the stage while my feet pounded up the stairs in the same rythm of my heart. Sweat from my hands compliment the wood on my violin. I glance at Carter, whom looked equally as terrified.
"Are you ready?" I ask.
"Sort of... it just seems like we should have sucked it up and practiced together," he mumbled. I nodded.
"Well... good luck. May we both play our best."
We walked onto the stage when we heard clapping. The lights heated my skin and burned through my soul. The audience stared along with the lights. I put my violin onto my shoulder and sunk the bow into my string. I heard the waves in the air and knew we were out of tune. I mentally cringe. I tried to match his pitch. His tone. His dynamics. I pulled on the strings as if my life depended on it. We weren't just sharing fame, but everything that went into it. We ended the song with a Bam! like no other human could have done. Carter and I smiled at eachother and walked toward the stage to bow. We had done it. We had matched.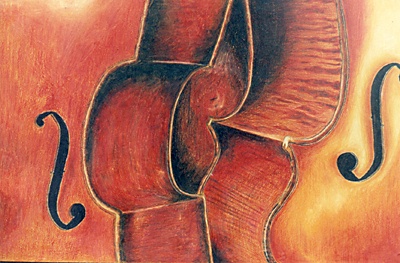 © George N., Houston, TX