Kalona's First Love
February 18, 2016
His blood drips from my lips as I stand within his embrace,
tasting the blood of a once proud warrior.
A warrior who was thrown from the gates of heaven for he was not strong enough to confine his heart. He fell in love, and because of his love he lost the women he was eternally bound to.
Now he is nothing but the slithering darkness he once called evil.
His name is Kalona.
He isn't human nor is he a beast.
He is an immortal being with godly powers.
He has the image of a woman's definition of a perfect man,
Yet beneath the charming smile,
sparkling eyes, and sweet words,
lies a silhouette of the man he use to be.
Love can either be the magic that shapes your character,
or the evil that destroys your soul.
Kalona's love brought his downfall.
HIs love for his Goddess was to great.
He became jealous or his maiden's lover,
and was thrown from the gates of the otherworld.
For you see one of the problems of being a warrior is that you have no life.
A warrior is to give up his or her life for someone they wish to serve.
They have to push aside all their desires and such to be a protector.
Love only gets in the way of their judgement.
Kalona isn't good nor is he evil.
He is just another lost soul.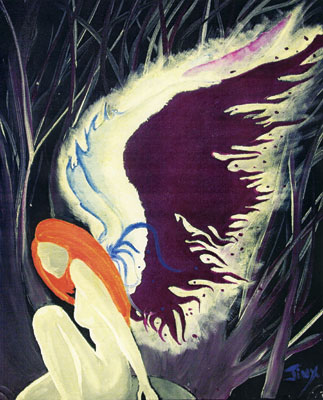 © Megan B., Youngstown, OH