Snapshot
February 6, 2012
As bombs abruptly open up their firepower around me, men in charcoal colored uniforms plummet from the sky, and dash around the collapsing builings. They send shot after shot to people, and many exit this world today. What would've normally been a bright, gleeful day is now a loud, awful extension of time that could last for another second, or for the rest of our lives, depending on length.

Suddenly, a little boy of six trips in front of me. I begin to rise and come to his aid, but I halt at the sight of blood seeping from his mouth. The little boy had been murdered. So much rage is lit in my heart I almost explode inside of myself, and I wish I could. To take back the life of the reaper of this boy's, and so many others.

As these thoughts cross my mind, a huge square of blood flaps into the air. No, it has an ebony spider confined in an ivory circle. This is the symbol of defeat, colored scarlet.

As these horrid events occur, I record them inside my camera. No, not a physical camera. My mind is as sharp and accurate as one, and remembers just as much. As death swamps gobs of people, I record pinned under a mountain of bricks. Then, the setting I'm in vanishes, and a faint light grows in the dark...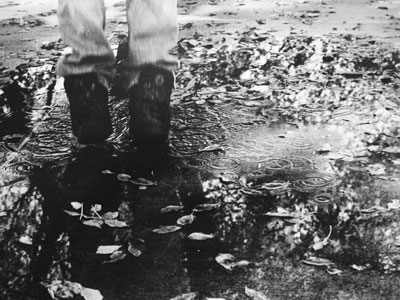 © Laura M., Eagan, MN