A Roll of Bread, Onion Soup, and Freedom
September 5, 2011
PART ONE

For days now, we've hidden in shrubs, tired, scared, and constantly on the brink of giving up. It's so hard to run all night, and then not get any sleep in the day because there's a kind of fear eating at your brain. The fear that Massa's gonna come and take us back.

We left in the middle of the night. As we went, I turned and saw our tiny desolate room in the moonlight, and knew that wherever we were going had to be better.

And then there's Elijah and Missie and Josiah, those unlucky three. They'll never make it to freedom. And we couldn't even bury them.

Yesterday Ma told us it was only a little way to Canada. And the conductor told us the same thing. We're all praying that soon we'll be free.



PART TWO

"Up, Jessie. We's leaving." I jump up and groan. I'm so sore from all the running we've been doing. Scurrying over to the door where Ma and Joe wait, I notice something on the ground. "Food," I whisper, breathing in the aroma of the bread, silently thanking the person who dropped it here.

We set out, hurrying along the edge of the forest for a while, and then plunging into its depths. We don't talk. We can't risk it.

I feel like my feet are going to fall off, when finally we spot a cottage in a clearing. I'm about to run up to it, when Ma stops me. "We dunno whether it's a friend or not," she whispers, staring at the house.

I study the house. A candle is silhouetted in the window. A quilt with the North Star on it hangs outside. The candle. The quilt. I jump up. "It's a safe house, Ma! There's the candle! There's the quilt! I'm gonna go in!"

Ma smiles. "Remember the code language," she whispers. "And, Jessie, be careful."



PART THREE

I walk up the two big wood steps to the doorway. My heart is pounding so loud that I think Massa's gonna hear it. But nothing happens. I raise my fist to the door… and knock.

The door is pulled open, and a kind-looking lady comes out. She's white. "What do you need?" her voice is kind too.

"Um… I was told you were here--by a friend," I squeak, and then add, "A friend of a friend."

The lady smiles. "Any other parcels?" she asks casually, and I recognize the code word for escaped slaves. "Um … two others."

She opens the door wider, and I step in. Ma and Joe follow me. The lady has us sit down for a meal. She tells us her name is Lindsay as she serves us the best food I ever have had: onion soup, so hot that it burns Joe's tongue, with bits of onion and bread mixed in. Bread, bursting with flavor, with giant seeds that taste of sunshine. Peas, so sweet that they just about melt in your mouth, and have so much taste. And warm herb tea with honey (honey!) that tastes so pure that it has to be made fresh.

"But I thought there were six of you," she remarks halfway through the meal.

I swallow my onion soup. "There was when we started. But Elijah got bit by a snake, the runaway slave catchers got Minnie, they killed her. And Josiah just died."

She looks at me sympathetically. "Well, you're nearly to Canada. Just another day or so." I smile for the first time on the trip. "Now, tell me how you got here."

We take it in turns to tell our adventure. I begin.

"A man from Canada came to the plantation. He told us that we could run away. Six of us did. We would hide all day and run by night."

"Then we came to the Cincinnati River," continues Joe. "We got in a box and we got to the other side by boat. We met Harriet Tubman there. She led us to the farm we stayed at yesterday. Then she went back"

Ma finishes: "Now we's just been hiding. Almost to Canada."



PART FOUR

Ma and Lindsay talk about maps. Me and Joe go to sleep on the rug in front of the fire. Joe falls asleep right away. I can't seem to. We've been hiding so long, it won't seem right not to.

The night eventually fades into morning, and Ma shepherds us out the door. I linger for a moment outside the cabin, and then press Missie's little wooden flute into the ground. Not a proper burial, but I know she wouldn't mind. Then I hurry to catch up with the others.



PART FIVE

The river sparkles in the morning sunlight as we row across. Finally we step off the boat. Ma hugs me and Joe. She spins us around, our skirts flying. "We's free," she cries. "Free. Free, free!"

Tears run down my face. Sad tears--Josiah. Missie, and Elijah--mingle with happy ones--Joe, Lindsay, Ma, and FREEDOM!

I spin around, my arms out, my face to the sky. I'm free.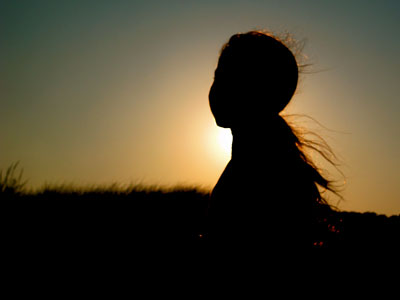 © Barrie T., Scarsdale, NY