Birdsong
September 5, 2011
I stand on the dirt ground, my bare feet rough and calloused. The barbed wire fence is at its tallest here. I have to crane my neck to see the top.

I wish I were a bird. They can fly. Fly over the fence. Away from this god-forsaken place. Away from Poland, from Europe, over the sea to Britain, where they aren't looking for me.

Mother grabs my shoulder. "Where were you?" she yells, shaking me.

"Being a bird." I tell her, because I have nothing better to say.

"Get back to work." She replies tersely.

I nod, still a bird in my mind.


The summer passes slowly. We eat little, sleep little, and work too much. My legs and feet ache. The leaves drop off the trees. The birds fly south, calling out to one another as they fly.

New faces show up at the camp. A girl about my age arrives in early fall, weighed down by the burdens of life and carrying two babies as she supports her dying moth through the gate. Her mother disappears a week later. Everyone knows where she went, but nobody dares to say.

Fall turns to winter and I meet the girl at last.

Her name is Maurine. She's Fifteen. Her sisters are two. And she, too, wishes to be a bird.

Somehow we form a friendship, surpassing all the camp's wishes. She's so similar to me that I want to yell it to the entire world.

But of course something has to happen. Something terrible. Something life changing. I didn't expect it. Nobody did.

Her sisters are gone, gone to be experimented on by the Angel of Death himself. There have been whispers all through the camp of his deeds. He has taken identical twins, they say, taken then and given a disease to one and killed the other.

Maurine is devastated.

Who will be next? I ask myself the same question every night. Who will be taken?

It's not me. Not Maurine. It's Mama.

The world is dark and grey. No light shines through the burnt our sky. I am living a nightmare that I cannot get out of. "Take me!" I plead in my dreams. "Take me and not her!"

Winter's snow begins to melt, creating muddy puddles of water in the roads. The bids come back and in my mind I follow them, all the way over the ocean, to a place other than this.

I wrap myself in darkness, a cloak, a shield against the evil done here. I do not speak. I do not eat. I work very little. Maurine tries to get through to me, but she can't. I stay by myself, a body devoid of spirit. Nobody comes near, nobody cares enough to do anything.

Summer comes to the camp again and I stay hidden, weaker and weaker everyday. And finally they come for me.


The death camp. What a horrible name. I shiver as we pass through the Stone Gates of No Return. They take me to a tent. A tent. I want to scream, "Kill me now! I don't want to live!"

I don't. I wait. I don't know how much time has passes when they come for me again.

We near a brick building and suddenly I want to live. I don't want to die. Silent tears run down my face. How could I have done this to myself? I want to live. I don't want to go in the building.


But I have to. And just for a moment, as I step through the door, the birds stop singing.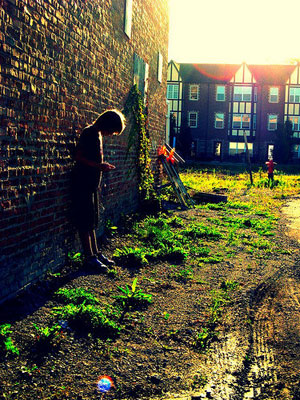 © Jessica R., Westchester, IL