The Last Day
November 9, 2010
The baby is crying. He is so young. Too young to die today. It's not fair; he has so much to live for. My little daughter is clinging to my hand, trying desperately to prove to me that she isn't scared. But I know she is, she is shaking, bottom lip trembling and failing to hide her tears as we stare together at the destruction happening all around us. I want to tell her it's OK to be afraid, but I've spent my life teaching my three children not to let other people see that you are weak, I have taught them not to cry. The top of the great mountain blew off yesterday. We are hiding up in the surrounding hills, hiding from the ash and the fire. This is exactly how I imagined the end of the world would be. My oldest son is dead for sure, and so is my wife. I am alone with my daughter and the baby boy. I want, desperately, for them to survive. I don't care if I die, as long as my remaining children live. I will die with a smile on my face if they survive.

I kneel down to speak to my daughter, who is crying quietly for her Mama. I whisper that Mama will be here soon, if she can. I whisper that she has to take care of her baby brother if something goes wrong. I tell her of my brother in Rome, and how he will help them. This is a lie. I only have sisters, and they all died years ago. But she seems stronger, more determined to please me, to be responsible for her little brother. I want to hug her, to let her know how proud I have always been of her, but I can't bear to say goodbye. Because that's what it would be, if I hugged her now. It would be giving up.

The ash cloud, growing larger and closer, shaped like a mushroom has swallowed up the city now. It's heading for us. But it won't get to us up here. I feel so helpless, watching my daughter cry, trying to stop my baby son from screaming. I noticed the burn on his back just a few moments ago. No wonder he's crying. I'm scared. I'm alone; I need someone to take charge. I don't want the responsible one, taking care of my children on the last day of earth. I try to stop thinking of my dead family down in the city. I don't know what killed them, the lava or the ash. Were they buried alive, suffocated in the mud and heat; or did they choke to death on the ash in the air? Did it hurt? I feel like I should cry, looking at the scene of destruction panning out below me. It hurts, inside; to think of the life my oldest son should have lead. He was going to go to Rome, to learn, to work. He was clever, my child. I had such high expectations of him. I hope I didn't pressure him so hard he hated me today, as he died. I think of my wife, of how I wasn't home enough. Of how much I loved her and never showed it. I'm so sorry.

The column of ash sweeping from the top of the mountain swirls and cascades up into the sky, swooping down to smite another person down on the ground. I wish I had died there today. It would have been easier. I would never have escaped with the children, I would be lying there, hugging my wife and my babies close to me, praying to the gods to save us, and we would have died together at the end of the earth. There is no future for us after this. There will be no one left. And I make a decision, possibly the stupidest thing I have ever done in my entire life.

I take my daughter's hand and we walk together down the mountain, towards the wasted city. There are still some people left, but I don't see them through the sheen of tears in my eyes. This had been such a great city. I had lived here since I was born. I had never known anything else. And now it was over. And as I step deliberately into the city of ashes, pulling my daughter behind me, feeling the burning at hearing the screams of my daughter, I imagine. I imagine it's a normal day and I am going home. I imagine that the world is not ending, and that my children are not dead, that I am not murdering my youngest children. I imagine I am stepping into my wife's arms. And I feel her gentle caress as I fall to the ground. The end of the world has ended. And it ended in pain.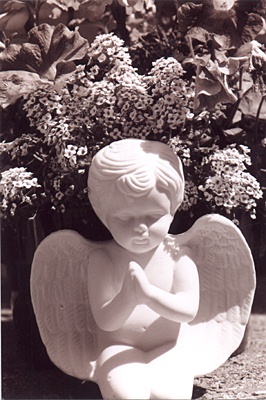 © Laurie T.,Hopkinton, MA