The Grieving Family
December 4, 2020
The Grieving Family

"My deepest condolences, but James White has been declared M.I.A," sympathised the young uniformed officer. Many gold medals hung above his heart, his hat tucked professionally under his arm. The soft morning breeze of Halifax tickled the face of Agnes who had just been informed of her dear husband's casualty declaration. The light tap of her tears hit the wooden floor while others were caught on the loose dark brown strands that framed her face.
"Tell me it's a mistake. Tell me that it's a fluke! He has a child! He needs to come home!" she cried out.
"I'm sorry. Your husband died of service to this country. He will be honoured," He replied in a soft sorrowful voice. Light footsteps could be heard from behind the door. The officer expressed the last of his consolation before he had to be off delivering the devastating news to other families who, likewise haven't been very fortunate.
"Mum, what happened? Who was that man?" the young boy appeared hiding behind the kitchen doorway that was adjacent to the front door.
"Ma cherie, don't fret but I have some news. Some news you wouldn't like," the mother said.
"Papa isn't coming home is he?" he inquired. Adam, at the age of 9 knew war wasn't something that many would overcome. Deep down they both knew today would come sooner or later. James was too cordial for his own good, he would easily sacrifice his life for someone he had known for nor more than a day. He would be proud he passed in service, but he would also feel deeply for those who are grieving for his death. It was the right thing to do, he would have explained. An honourable thing is to take a stance for your own country, and for the better lives of people who have not yet been born. No, Agnes and Adam weren't shocked in the least, but nothing could have prepared them for this moment.
"I knew father shouldn't have gone, it was a stupid thing to do," he gritted out, the frustration
and the feeling of betrayal could be heard.
"Nonsense. Your father would have wanted to perish that way. To him there was no better way to go," the young woman reasoned.
"Aren't you mad? He left you! He left both of us for this stupid country," Adam yelled.
"There was no other option, sometimes we have to let go to those we love," she said softly.
Although she felt like she was drowning amongst her emotions, she had to care for her child. She reasoned with herself that the best thing for them is to grieve together and soon realise the rest of their lives will soon change for the better. Her hand clutched the empty chair of their lost soldier in their small apartment. For worse or for better, wherever hope is hiding, they will learn to let go but never forget.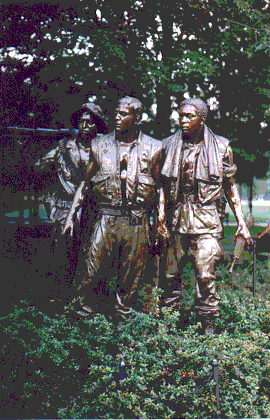 © Joe B., Phoenix, AZ