WWII: Announcement of Japanese Internment Camps
January 21, 2019
"Good morning, Mama."
"Slept well, dear?"
"I slept alright."
"You brother and Papa are already eating breakfast. Go join them. I just need to finish washing these pans first."
I head over to the family dining table. As per usual, my older brother Luke is wolfing down his plate like he hasn't seen food in days and my Papa is reading the newspaper while occasionally taking a bite.
"Good morning Papa, good morning Luke," I greet them. Neither of them look up from what they are doing as they mumble a greeting in response. I sit down in my chair and start eating a hearty breakfast of pancake, sausage, and eggs.
"It's about time those old geezers came to their senses. The Japs deserved to be locked up since long ago! Took them long enough," Papa says in a loud voice then sneers.
Confused, I look up at him. "What do you mean, Papa? What happened?" I ask. He finally glances at me for the first time.
"Made the front page of newspapers across the country. The Japs are being sent to internment camps. 'Bout time," he grunts.
"Can I see?" I ask. Papa looks at me, a bit disgruntled, but hands me the newspaper anyway. I grab it and immediately start inspecting the front page. It reads:

"Official Opening of Manzanar Relocation Center Marks Victory for the War Department
Mark Wilson, Staff Reporter
June 1, 1942

INYO COUNTY, CALIFORNIA- As the sun rises over Mt. Whitney, the first group of Japanese Americans arrive at Manzanar Relocation Center. Unlike the beautiful view of the sunrise, the anxiousness and wariness on the detainees' faces forms a sharp contrast. Today, June 1, 1942, is the first day the Manzanar Relocation Center (originally Owens Valley Reception Center) is officially accepting 'suspicious' detainees. Now managed by the War Relocation Authority (WRA), the opening of the internment camp marks an important victory for the War Department towards their goal to completely contain those of Japanese descent.
Ever since the day Japan conducted a surprise attack on Pearl Harbor which lead to the United States' entrance into World War II, the Department of Justice and the War Department had been stuck in a deadlock: to round up all Japanese Americans or not? Both sides had continuously presented their case; while the Department of Justice denounced the forceful move of innocent civilians, the War Department made their stance even clearer. John J. McCloy, the assistant secretary of war, made the famous declaration that 'if it is a question of the safety of the country [and] the Constitution … why, the Constitution is just a scrap of paper.' President Franklin D. Roosevelt seemed to agree; on February 19, 1942, he signed Executive Order 9066, which gave the U.S. military permission to round up all suspicious civilians in designated areas. Though not explicitly stated, it was obviously intended mainly for those of Japanese descent.
Four months later, here we are today. The opening of Manzanar is only the first of many planned internment camps specifically targeting Japanese Americans. Many of these detainees have been forced out of their homes in a matter of days with almost none of their belongings. What could be sold have been sold at unfairly low prices to eager brokers. Those who arrive at the internment camps have little but a few items of clothing and their heavy hearts with them.
Credible sources have stated that the WRA plans to open more internment camps in other parts of California, Arizona, Wyoming, Colorado, Utah, and Arkansas. The WRA has already confirmed the next internment camp to be located in Tulelake, California.
It is now clear that there is almost no hope for Japanese descendents living in America to lead a normal life. Unwanted by both their ancestral land and their current government, Japanese American will continue to be rounded up into internment camps over the next few weeks until the fateful day World War II ends."

After I finish reading the article, I sit in a daze for a few seconds. A while later, I whip my head at Papa and ask, "Are they really going to lock up all the Japanese people in the United States? Even if they are American citizens or children?" Papa nods with his arms folded across his chest.
"But they've been in the United States the whole time! There is no way they can contact Japan! And even if they could, why is it necessary to lock up all of the Japanese?!" I argue.
Papa gives me a severe look. "You don't understand, boy. They're all the same, every single one of them. Cowards and traitors are what they are. Look at Pearl Harbor. That is what happens when you are too lenient towards those dogs," he says in disgust.
"But many of my friends at school are Japanese. Eric is one of them, you've met him before. He's one of the nicest guys you'll ever meet. That means not all Japanese people are the same!" I protest.
"You middle schoolers always think you guys understand everything when you're too innocent to even comprehend the evil in this world. Don't be fooled by their fake pretenses," my brother Luke scolds harshly.
I stay silent even though I feel offended by their comments. I don't think I'm innocent to the point where I can't tell right from wrong. The whole situation seems unjustified to me.
There's nothing I can do about it though.
I quietly begin to eat my breakfast again.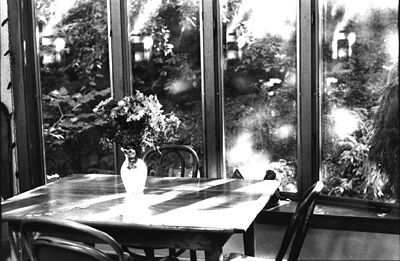 © Bree C. Marblehead, MA