Mockingjay - Epilogue - Part 1
January 28, 2013
After a despairing winter comes a joyful spring that gives life to the bright yellow dandelion that means life instead of destruction. That's what my mother keeps telling me. But the scars of the snowstorm do not completely disappear and the faint vestiges remain forever. Still, life goes on. She also says that. It is a magnificent sun that rises over District 12, the land of the Mockingjay. It feels very strange to say that, because the mockingjay here is my mother. Mother wanted to paint our house orange. The soft orange of the sunset. But father laughed and said, "Why not let the sun paint our house?" The east and the west walls of our two-storey house were then made of glass. And every morning and evening, the sun and its entourage of golden beams become a part of our family. Every dawn, we would be awakened by the soft golden hue swimming its way into our dreams. So there was no need to set an alarm or no hurry to get ready for school. "Tick tock, the sun's the clock", my father says.

I watch myself in the mirror, shrouded in the golden cloak of sunrise. "Primrue!" I hear my mother coming up the stairs. She is clad in grey and her dark hair is tied up into a neat bun on top of her head. My hair is just like hers, except that it hangs loosely down my shoulders and smells like fresh water jasmines. She walks up to me with a subtle smile on her face and fastens a golden mockingjay pin on my chest. She looks up at me and tucks beneath my ear a strand of hair that had fallen into my eye. "You look beautiful", she whispers. We exchange a little smile. "Your eyes. It's like a blue sun hovering over an ocean of orange." She lightly pats my cheek and walks away. I look down at the tiny bird that my mother is known for. It feels strange. I turn around and look into the mirror. I'm wearing one of my mother's grey dresses. A string of pink pearls adorns my neck. It was a gift from my dad for my sixteenth birthday last month. I look nice.

Downstairs, my brother Cinna looks classy in our dad's grey suit. "Good morning!" he beams and I watch his dense blond hair bounce as he vigorously waves at me. Only the golden mockingjay pin could compete with his strikingly blond hair that radiated the sunlight in all directions. Our parents sit opposite us, dressed in complementary grey suits with the mockingjays pinned to their chests. "Your mother and I will leave for the Capitol right after the Memorial Ceremony. You kids take care okay?" our father says. "Sure, we will be okay", I reply. My parents quickly finish their breakfast and in no time, they are at the doorstep. "Love you", they chorus. "Love you too", we sing back.

"Aren't you excited? This is going to be our first visit to the Capitol!" Cinna says exuberantly. Capitol was once the host of the horrible televised battle to death called the Hunger Games. "I'm just a bit nervous… Remember how the cameras keep focusing on Kai, Lehava and Sera?" Kai is Aunt Annie's son. He is natural in front of the camera. He smiles and waves and smiles again and people just love him and his deep green eyes. Lehava and Sera are Uncle Gale's daughters. They handle the cameras pretty well too. They have been to the Capitol so many times but mother would not let us go. "I know everything is fine now but I'm still scared…" she would tell father and he would nod his head sympathetically. But Cinna has been dying to get a glimpse of the city and was so stubborn to go there this year. It took a long time to convince mother but she eventually agreed.

We finished our breakfast. On the couch, my mother had left us matching thermal jackets. We gently shrug into the thin grey armholes and instantly feel the warmth flooding down our veins, into the bloodstream. We leave the house and step onto the clean white pavement. We look back at our house, mirroring the brilliant sunrise. This sight never fails to enchant us with all its golden glow and rays. The winter was slowly ebbing away and I could see the traces of green peeking through the snow that flanked the white footpath. The streets look impeccable with their white buildings and pristine footpath. Cinna runs ahead and waves at me. I run after him, chasing him into the gorgeous sunrise that has bloomed on the infinite horizon of District 12.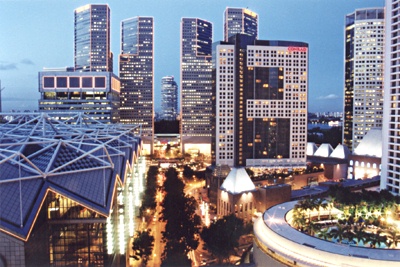 © Gretchen L., Edina, MN