Special part I
May 6, 2010
There was a flash, there was a bang, there was a scream, there was darkness, there was a bright light, and then, there was God.
And God said, "Don't worry, be happy."
And then there was darkness once more, then upon my ears I heard sirens and upon my closed eye lids I saw flashing red and blue, then nothingness.

"ID?" I heard a deep voice say.
"None, no wallet either." A softer male voice replied.
"You think she was robbed?" a women's voice asked.
"Not likely." The deep voice.
I did not move or make a sound, but listened to the things around me. I heard a beeping of a heart monitor in the background, muffled voices that sounded as if they were coming from behind a thin wall, and cars driving on their busy way on a nearby road. I felt scratchy starched sheets on my bare legs and arms and a not-so-soft pillow under my head and neck. Something was putting pressure on my index finger, and my body ached everywhere.
"Has anyone filed a missing persons report within the past 48 hours?" the man with the soft voice asked.
"No," the woman.
"Any leads?" the soft voice.
"Not much that could be used." The deep voice.
"What about the press?" soft voice.
"Haven't asked a single thing, haven't posted a single thing." Deep voice.
"Strange," the woman said mainly to herself.
"Very, the press is always buzzing around everything." Soft male voice. "Has the department issued a found persons report?"
"None," deep voice.
"So to recap we know nothing." Soft male voice.
"Pretty much." Deep voice.
I heard footsteps, a door open then close, then nothing but the silent buzzing of the room.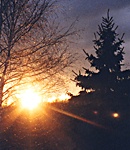 © Christy S., Germantown, NY