The Forgotten
February 26, 2016
My love flows with the winds that carry me to the skies as it holds me aflight.
I raise my arms high above my head as I whisper to the winds my heart's truest desires,
I close my eyes as the winds caress my wings in reply,
I smile gently and fly higher and higher, wishing to never come down but alas I must for the air is much to thin up here in the clouds.
As I descend from above I feel my heart begin to sink as I get closer and closer to the earth.
My heart stutters in its beautiful musical rhythm and I halt in my descent just before I touch the ground. I do not wish to leave the skies, yet I miss the feel of the earth's presence in my once wondrous life.
I ponder on thoughts as I stare down upon the grassy fields above which I hover.
Long before I took to the skies I spent many days laying in this field on pretty summer afternoons. I remember chasing butterflies of great vibrant colors as they swooped and twirled around the flowers that bloom here.
I remember a woman's voice, it sounded so beautiful as it sang out in a joyous song.
I once danced to that lovely song and sang along to that familiar voice but that was before…..
My heart ached as memories flooded my mind. How could I have forgotten?
That woman was my mother and this was our special place.
Tears clouded my vision as I replayed that event that tore me away from my mothers arms forever.
I had been playing in this field one afternoon while on a picnic. I got to close to the cliff which hung over the great spread of water which was the sea. I remember the wind, so cold, rushing past me as I fell. It felt like eternity before I felt the impact as I crashed into the water. I remember the fear and agony I felt before my soul was torn from my body.  The last thing I remember after that was how beautiful the sky looked when next I came conscience. Until now I couldn't grasp any of my memories of before.
How could I forget?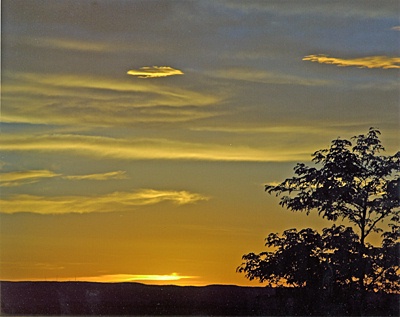 © Elizabeth B., Wichita Falls, TX