Interview with Mary Ann Nichols
April 8, 2015
Question: When was the last time you saw Mary Ann Nichols?
Answer: I ast saw her at 2:30 am at the corner of Osborn Street and Chapel Road. Mary was drunk.
Question: What was Mary doing that night?
Answer: She was trying to earn money so she could buy a new bonnet. When I saw her last she said she had earned twice as much money as she needed but had spent it all on alcohol at a local bar.
Question: How did you know Mary?
Answer: I didn't know her that well. We were both staying at 18th Thrawl Street.
Question: Did she tell you anything about herself?
Answer: Not much. She told me she was married but her husband was leaving her because of her drunkness and immoral behavior.
Question: Were you aware of what kind of business she did at night?
Answer: No I was not aware till the night of her murder.
Question: If there was one word to describe her murder, what would it be?
Answer: Sad and terrifing.
Question: Why 'Terrifing'?
Answer: It's very terrifying to read in the newspaper all the gruesome details of a women you sorta knew being muredered. And everywhere I went I heared people talk about it.
Question: Exactly what did you hear people say?
Answer: Everyone spoke of how her body was found in front of a gate stable entrance in Buck Row, Whitechapel. Her throat had been deeply severed in two locations and her lower abdomen partially ripped open by a deep, jagged wound. The Killer had also made several other incisions in her abdomen with the same knife.
Question: When you say killer, who exactly is the killer?
Answer: we do not know of his true identity but they call him Jack the Ripper.
Question: If you could tell 'Jack the Ripper' anything, what would you tell him?
Answer: I would tell him how monstrous he is and ask him why he does what he does. Why cause all the pain and why take Mary's dear life away from her.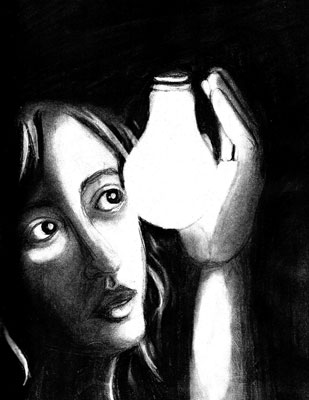 © Jessica P., Bethel Park, PA