Jack R. Stockton's "The Lady or the Tiger" Alternate Ending
March 13, 2015
Without the slightest hesitation, he went to the door on the right and slowly twisted the ice cold knob. He creaked the door open with confidence. Appearing in the doorway was a beast-sized tiger with paws the size of basketballs. The striped cat prowled out of the door, ready to pounce at the Youth.  The princess was startled to see the enormous feline. With many confused faces being exchanged throughout the audience, the Youth and the carnivore made their way to the center of the amphitheater.
When the Youth's and the tiger's eyes met, there was a spark of recognition. The crowd was so quiet that you could hear a quill drop. The King was dumbfounded that the beast hadn't eaten the Youth yet. The princess peered down at her lover and the tiger, along with barrels, metal hoops, and rope scattered around the perimeter of the dirt floor.
With a swoosh of arm movements, the tiger sat patiently as the Youth rolled and old barrel to the tiger. As he did, dirt rised from the ground, giving off a musty smell. With ease, the tiger leaped onto the barrel and balanced. More commands were given and the beast stood on its hind legs, still on the barrel, showing off to the crowd. More mixed emotions of confusion and awe spread throughout the arena.
With realization of the Youth's unique talent of training animals, such as tigers, the crowd roared with applause and cheering. The King's reaction stunned him, impressed by the passion the Youth possessed. The princess, along with the King was awestruck, feeling almost relieved her lover wasn't devoured.
With news of the Youth's talent spreading through the land, many requested to see this extraordinary performance. The Youth travelled on a daily basis, giving shows with his unlikely friend. Thus, the circus was created.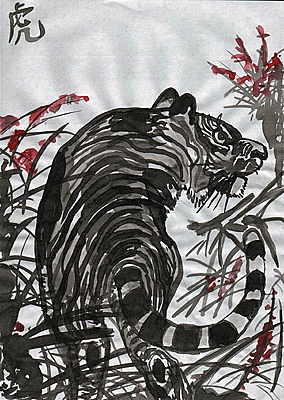 © Xin H., Elmont, NY