Fallen Angels
February 26, 2015
For hundreds of years there have been rumors, legends, and stories of fallen angels. Fallen angels are known for their beauty, grace, strength, and mysterious powers. Fallen angels are much like normal angels they just lost sight of what is truly right and made a couple of mistakes. In rumors they are described as beautiful people with incredible gifts. In legends they are described as magical guardians who protect our world from chaos, darkness, and evil monsters. In stories they are described as good and evil beings who make deals with mortals for their souls, but usually the evil ones do not keep their side of the deal.
We do not know if any of this is true but it is very interesting. It is said if you try searching for a fallen angel you will fail. You do not search for them, if you are in need of assistance they will find you. They hide and lurk in the shadows of our cities and towns protecting us from the evil which seeks to destroy our world. It is only thanks to them that we are still alive and thriving today. Fallen angels are not evil nor are they good. They are like us just with a special little gift running through their blood. They can feel things just like us, like love, happiness, hate, joy, and sadness. They can live amongst us and we wouldn't even be able to point them out.  We are similar to one another in some ways and completely different in others.
They are not perfect, they have made plenty of mistakes in their lives. But we are not perfect either, we have made many mistakes throughout history and we're still making them today. No one is perfect. We all make mistakes but from our mistakes we gain knowledge and from this knowledge we maybe someday can create a better world. I know some who will read this will just laugh but this is what I believe and I don't care who disagrees with me. We all have our own opinions and this is mine. I believe fallen angels do live amongst us but are just too scared to reveal their existence. Frankly I don't blame them for fearing us.  Just look what happened to the witches who revealed themselves years ago. We hurt them and tortured them. We cannot change what happened in the past but we can change what happens in our future. Maybe if we can show we mean no harm maybe, just maybe we might be able to finally meet our dear fallen angels living amongst us.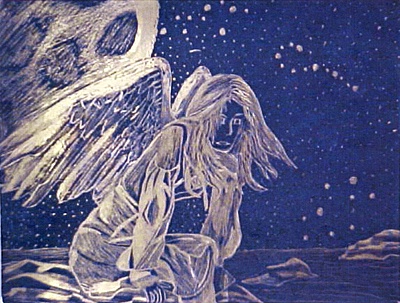 © Kaylen C., St. Clair, MI