Angel For Christmas
MAG
January 21, 2015
The snow felt cold even though he was bundled in a winter coat, snow pants, and boots. He glanced up to the snowman he and Jess had made the first night it snowed. They had named him L.J. It wore one of Jess's old scarves made from maroon and cream wool. L.J. had a small carrot nose, twigs for arms, rocks for his mouth, and to top its head – one of Luke's hockey helmets. Luke smiled up to the snowman weakly. "LJ, why did she have to go?"
There was nothing but silence. He frowned and looked down to his cold fingers, then sat in the snow. He remained in thought for quite a while until he glanced to the sky. For the past 13 days, the only thing on his Christmas list had been for his sister Jess to come back. He didn't care if the other kids at school put him down by saying it would never happen. He missed her terribly, and the fact that he would never see her again was hard to take in.
"Santa, I don't know if you can hear me. It's Christmas Eve. Santa, I don't need a bike or a video game, or a hockey stick, I promise. Santa, all I want is my sissy to come back home." He choked on his words.
"Luke!" mother called. "Come inside – it's freezing out there! You can't catch a cold before Christmas!"
He managed to stand up, despite the deep snow, and trudged to the front door. He knocked his boots against the side of the house to loosen the snow. His mother helped him take his boots off, unzipped his coat and hung it on the hook. Lucas walked into the living room and sat on the sofa nearest the fireplace. His little feet dangled from the couch.
He admired the decorations he and Jess had put up the day after Thanksgiving. It seemed like yesterday. The tree was stocked with ornaments, pictures, and candy canes. The presents under the tree were perfectly wrapped.
"Here, honey," his mom spoke up, giving him a mug filled with hot chocolate. He grabbed the mug and looked into it. There were three small marshmallows inside. He smiled. His sister was always a big fan of the number for some reason, but he didn't question it. He blew into the mug and took a sip. It didn't taste as sweet as it used too.
There was a noise from the garage. His dad came in carrying four stockings. His brown hair was filled with white specks from the snow, and his face was beet red from the cold. He hung the stockings along the fireplace mantel in the same order they always had: first Luke's, then Jess's, then Mom's, and then Dad's.
Luke's eyes watered a little as he watched his dad hang up his sister's. The room was silent. His parents looked to each other, communicating without saying a word. His mother cleared her dark brown hair from her eyes as she looked around the room. His father did the same and rubbed the back of his neck with scarred fingers. The tree was lit, the cookies were on a plate beside a glass of milk for Santa – yet something was missing.
"Lucas, honey." His mother broke the silence. "Why don't you go to bed, sweetheart. It's late."
"Okay, mommy," he said hopping off the couch and putting the empty mug down on the table. He kissed both of his parents goodnight and started climbing his way upstairs.
He opened the door to his bedroom at the end of the hallway and walked inside. His room was filled with blue walls and wooden flooring. Various pictures of superheroes hung from the walls, and his shelves were filled with comic books and action figures. He changed into his pajamas by himself this time. He wasn't sure if he should smile, knowing in a few hours it would be Christmas, or if he should be upset because he was alone.
He walked to the table beside his bed and took a long look at the picture of Jess and him. They shared the same dirty blonde hair and blue eyes. They smiled boldly, Luke wrapped in Jess' embrace. He had been so happy around her. She was his best friend.
He held the photograph in his hands and sighed. A single tear fell down his cheek.
"Sissy, I miss you," he whispered. He closed his eyes and embraced the picture in the frame. He held it as tightly as he possibly could. Crawling into bed, he pulled his Spider-Man covers over himself and fell asleep.
He awoke at 7 a.m. (like any child would on Christmas morning) and tiptoed as quietly as he could to the Christmas tree. His socks slid against the wooden floor, and his eyes brightened when he saw all of the presents. He looked around eagerly for the gift he wanted. He knew Santa would've brought her, wouldn't he?
"Sissy, come out!" He spoke playfully. "No hide and seek," he called out.
He began looking under pillows, behind couches, inside the closet, and under the tree once again.
He got angry when he was unable to find her. He didn't understand. He paced around, unsure of what to do, then reached for one of his presents, lifting it over his head aggressively. Just as he was about to drop it, a voice appeared.
"Luke!" a voice called. It wasn't his mothers, it was much too soft.
"Lukey why're you so upset?" the voice asked.
Luke turned around nervously. He stared at the figure in front of him. It was Jess. She had a bow in her hair and was wearing her favorite white lace dress. There was a strange glow to her that he had only seen in video games.
"Sissy?" he asked.
She smiled at him. "Yes, bud, it's me."
His lips parted when he heard the nickname she gave him. He placed the present down gently and ran over to her, hugging her waist and resting his head against her stomach.
"Santa got my letters – he listened, he's real, you're here!" he exclaimed.
She laughed and bent down, lifting him so that he could hug her around the neck. He held her as if they would disappear if he didn't.
"I told them Santa was real. I knew it!"
"Yes bud, you did – I am here for now, but I can't stay long," she warned.
"Sissy, sissy, do you want to build a snowman?" he asked, completely ignoring her words.
"Bud."
He looked to her with bright eyes and a wide smile.
"I thought … maybe we could talk," she said, setting him down to the floor and holding his hand.
"About what?" he asked.
"About why I'm not here anymore."
He looked up to her, intrigued, and nodded his head.
"Mom and Dad never told you what happened," she stated.
"You died Sissy," he explained.
"Yes, but they never told you why I died," she clarified.
"One night after cheer practice, I went out with friends. I did things I shouldn't have done. I went out with friends and drank the drinks that only mommy and daddy are allowed to have. Then I got in my car," she started off.
Luke held on to every word.
"Roads were slippery, and it was a recipe for disaster. Bud, my car crashed into a tree on the way home," she explained. "This is nobody's fault but mine."
He took in all of the information.
"Sissy, did it hurt?"
She shook her head.
"Did anybody else get hurt?"
She shook her head again.
"Did Mr. God let you go to Heaven?"
She smiled and nodded, "Yes he did."
He smiled at her.
"Do they have cheerleading in Heaven?" he asked.
She laughed, "Yes we do, I even made the squad."
His smile grew larger.
"Now, I haven't seen that smile in ages. Why is that?" She asked.
He shrugged. "I missed you, Sissy."
She looked down. "I've missed you too, but I will always be here for you whenever you need me. I swear it."
A creak, a foot on the floor, came from upstairs.
"Alright Bud, I need to go now, but don't you forget anything I've said, and make sure to eat some of Aunt Lynn's ham for me at dinner."
He gave her a thumbs up and hugged her again.
They pulled away and she pressed her lips to his forehead.
"I love you, Luke."
"I love you, Sissy."
She walked to a bright light that Luke noticed against the wall. He waved to her until she disappeared, and then he sat, cross-legged on the wooden floor. His mom walked down in her pajamas and red slippers. Luke couldn't stop smiling.
"You look happy, honey," his mom said.
Luke looked to her. "I got what I wanted, Mommy," he cheered
She assumed it was the new hockey stick that was resting against the tree. She smiled, "Santa takes care of you."
The rest of the day was spent eating and opening gifts. Luke's family came to visit for dinner as they usually did. Luke ate extra ham just for Jess. After dinner they all gathered in the living room to watch Christmas movies.
"Did you enjoy Christmas, Luke? I know it's been … hard without your sister," his dad mumbled, taking a sip from his bottle.
"Daddy, a gift!" Luke cheered and ignored the question.
He ran toward the tree and reached for the small box wrapped in Spider-Man wrapping paper.
"T-to Luke. F-from Santa," Luke read.
His dad looked at it curiously, knowing they hadn't purchased any wrapping paper like that.
"Honey … " his father spoke to his wife.
Luke smiled as he opened the box.
His parents watched him open the present.
Luke reached into the box and pulled out a small angel attached to a string. It glowed the same way Jess had glowed when she visited him today.
"It's an angel, Mommy – look!" he announced.
Both of his parents looked to each other in confusion, unaware of who had bought the gift. They exchanged looks with the other relatives, but no one admitted to having bought it.
Luke smiled and stood up with the angel ornament. He hung it right in the center of the tree and smiled at it in complete wonder.
"You'll always be my angel, Sissy," he whispered.
There was a silence in the room until Luke felt a faint voice in his ear.
"And you'll always be my superhero."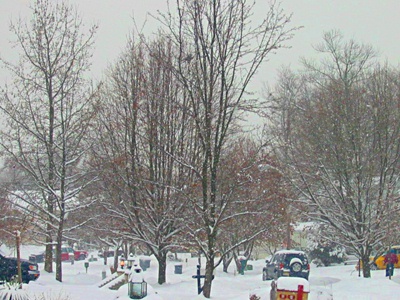 © Kristen S., Sewell, NJ