One Day and Then Another
March 22, 2013
She walked in gray, in a world where people left and laughter died as soon as it began. She trudged through the days like they were years, and left a handful of rainbows along the way.


One of them was January 19th, 2004, the day she first kissed a boy. For a moment sparks flew, and her heart knew what it was like to feel. And then came the bruises, gray as well, grayer than the darkest gray found in the storm clouds above. And she learned that with the clouds came rain, and the rainbows only lasted for a little while.


The next was February 2nd, 2010, the day she found that a handful of coins she didn't need could save the life of an orphan boy. And from those coins sprouted a small rainbow, the other side connected to the face she had saved. It slowly dissipated, as two days later the war started and the village became a graveyard. And she knew then that one day you live and the next you die.


The next came many years later, when she was thirty—year 2019. She'd stopped keeping track of the days—what was a day to a year?—and now it was only the same blank faces and colorless skies. But one day she woke up from her self-induced coma in a rather unexpected, unwanted way. He hurtled into her from the side, coming from seemingly nowhere. He cursed and mumbled "Excuse me," and continued on his way. Her breath was still gone, as he had taken it with him. She stared at his retreating back, wondering that this was the first time she'd seen someone really run. And she wondered what was so important to make him run, while the others shuffled about in the rain like zombies. And that idea sparked the third rainbow, the other end connected in more than one place—to the droplets kicked up by the puddles trampled beneath his feet.


The last—yet first—rainbow came when she finally stopped and looked up, towards the sky, and realized that the rainbows were already there, but constantly moving. She just hadn't been looking in the right places—in fact, she'd usually been too focused on the ground to see beyond the clouds. For it rained, and children died, and husbands left, and mothers cried—but there was a promise written in the sky, a promise full of bizarre colors meant for anyone who looked up. Rainbows that disappeared one day and were there another. Rainbows waiting to be found.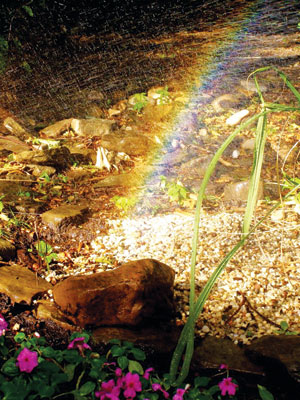 © Kristine B., Setauket, NY