The Frost Comes Every June
October 27, 2012
It was 4:57 am when I woke up with a purpose. A purpose I hadn't thought of yet. I rolled myself out of bed and crawled on my hands and knees over to the window.

It was June, and I was cold.

Frost spread over the inside of the window like a virus, growing and infecting every crevice and every corner.

I tried to peer through the frost. No avail.

With my steadier left arm, I took a red towel from the wash bin and wiped the virus away—leaving transparent pieces of a broken reflection in the absence, one where I stood blessed in grace…for I saw a man standing on the water of the in-ground chlorine pool my mother had saved up for all winter.

The man was God. He came every June.

He came every June to talk, and he brought the summer's warmth with his eyes and the frost with his fingertips. And every June I came to him, inept in step, and immersed in alacrity.

He'd tell me where to find the hidden stars scientists couldn't discover. And he'd tell me that the stars weren't really hiding—only the scientists had just stopped looking for them.

And I'd tell him what I had told my neighbor Charlie Sayre the day before he pulled the trigger.
I had told Charlie that I hated him.

I hated him because I hated his eyes—constantly moving left to right, left to right, searching for something and nothing, but only ever finding nothing. I hated the repetition. I hated it so much it'd make me scream.

And I'd spend hours screaming, screaming the words no one ever told me, and the lies that they did.

But the water would abide and be calm, and God would abide and be listening.

And soon after the hours I'd correspond to the water and to him. And we'd share a laugh and we'd share a cry…while sitting on my mother's calm chlorine puddle.

And for a moment, we'd be the solutions of parallel lines…we'd be the end of infinity.

Then after six days passing, like every June, he'd say it was time for him to go. I'd tell him in our farewell how I couldn't wait to die, so we could talk every day. But he would never say the same, he would never agree.

Like every June, every departure, he'd only kiss me on the brow with a sad look and a subtle frown.

And when he was gone I'd wander inside, I'd wander into winter…waiting for another June.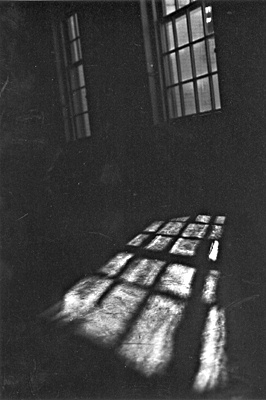 © Mary A., Fullerton, CA