Why Do We Have To Hurt?
December 15, 2011
Domino by Jesse J bangs against my eardrums. The music vibrates throughout my body, making me want to get up and dance the night away. My new apartment was bare so why not? I got up and spun endlessly around the room. I didn't have any curtains covering the windows so I knew that - if they were looking - the neighbors were watching. I lifted my arms above my head and I spun and glided around the room. It was a wonderful feeling. I was in my brand new apartment - by myself - with no parents and no rules. And no one shouting "Turn the music down before you go deaf!" I loved it. This was my start over, my beginning. I didn't have to see the person who I loved, but also broke my heart, ever again. I could drown my sadness in music.
The song changed and That's what you get by Paramore started to play loudly out of the speekers.
The lyrics played through my brain.

No sir, well I don't wanna be the blame, not anymore.
It's your turn, so take a seat we're settling the final score.
And why do we like to hurt, so much?

I can't decide
You have made it harder just to go on
And why, all the possibilities
Well I was wrong

That's what you get when you let your heart win, whoa.
That's what you get when you let your heart win, whoa.
I drowned out all my sense with the sound of its beating.
And that's what you get when you let your heart win, whoa.

The lyrics sang to me, flowing inside my body and then back out, like the ocean waves. Why did we have to feel? Why couldn't things like love be painless?
Then things would be much simpler.
And I could fall in love again.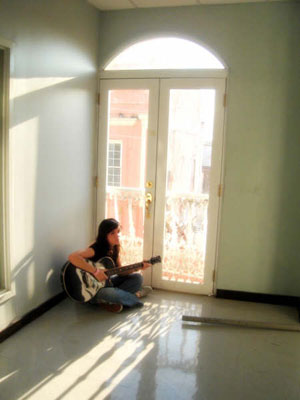 © Eveliz V., Bayamon, Puerto Rico