Just don't look outside
December 22, 2011
I had a headache again. Not the obvious kind that you can dismiss with a glass of water and a chalky-white pill, but the kind you get when you haven't gotten enough sleep for weeks. When you haven't written anything good for longer. When everything around you seems useless and futile and the only way out is sleep.
Except you can't. All you can do is stare at the computer screen, at the dark street through the window, at your blank wall, at the eternal light bulb, and every hour or so, yourself in the mirror as you go to the bathroom. Your hair gets messy, lines grow under your eyes, and every time you look at the light it hurts, it hurts.
Feel the cold tin of the can as you find yourself at the refrigerator again. The aroma of caffeine washes over you- you drink, and everything recedes slightly. The liquid rushes through your body. You are fine. You are awake.
Just don't look outside. It's dark. It's night. Especially don't look at the clock. You'll be reminded of how long it's been since you've closed your eyes. Then the caffeine will be wasted. You'll be worse off then before. Just don't think of the time.
It's too late- you went and did the math. 42 hours since you woke up a day ago. Two days ago? It doesn't matter. 42 hours. Jesus Christ.
Suddenly you're exhausted again. Someone has probably said something- you think you're awake, but you realize you have no idea who just spoke. Does it matter? Maybe. What were you doing just now? Open the file and check.
It's a blank Word document. Okay. Your brain switches thoughts.
You look to the right. Four cans of Dr. Pepper and Coca-Cola, stacked into a little pyramid. Weird. You must have done that earlier. You look to the left. Eight cans, not stacked. There's a small puddle of soda (who knows which) next to the computer- you don't know how it got there. It's begun to dry.
You stare at it. A minute, two minutes? Suddenly you blink and your eyes stay closed. How can this have happened? What's going on? A haze.
You're staring into blackness. Small pains brush your body, little areas of stiffness that dim when you don't focus on them. Don't focus on them. Focus on the darkness.
Your eyes snap closed violently, and it takes half a minute and vigorous rubbing of your sore eyes to get them open again. You sit back in the chair, tilt your head backward, and rub your eyes until they get used to the light again. Look at the screen. The screensaver has started. It hurts your eyes, but not as much as the burst of white that comes when you touch the keys. The cursor on the Word document blinks, not too fast, not too slow. It becomes you. Your heartbeat is wired to the cursor. It is vital to your survival. Don't touch the mouse. Don't touch anything. Just sit back and live into the screen. Pour yourself in. Lose your pain. Lose your exhaustion. Lose everything into the void.

+++

Just don't look outside. The sunrise might distract you...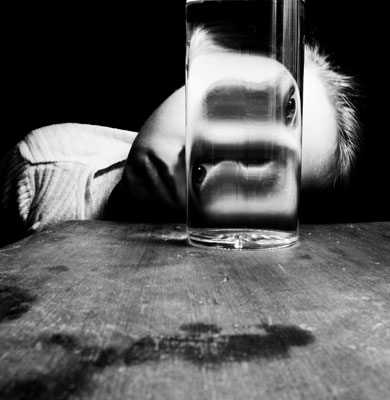 © Sarah M., Blairsville, PA