Dead Flowers
September 16, 2010
My mother- back when she was young- would kneel in the front garden- tending the already dead flowers. Ignoring the weeds fingering the dead stems. I would lie in the grass, twirling the green shards between my fingers. The only sound between us was the ruffle of grass and my Mother's tuneless humming.
I used to ask her why she bothered to tend the dead flowers, they were long gone anyway.

"Because I hope, one day, that life will poke out from the soil and I can proudly say I made it," she would reply.

I would blink once or twice. How could she make life? But I would lie outside with her anyway. The flower graveyard prodding the soles of my feet.

When I have nothing to do, I look back on this time. Her words still meaningless. I would walk over the grassed over mounds and pick my way through the stones. Names and dates would swallow me- drowning me in this oppressive silence.
I would walk to the home to see my mother- a net of wrinkles bunched around her eyes and mouth. I would perch on my usual chair by the window. Moans of the dying drowned out by the creaking of the seat. I would try to tease some words out her. Just something to let me know she was still there.
But that's all I could do, I thought suddenly, watching her frail form, wrapped in her hospital robe, tend my dead flowers.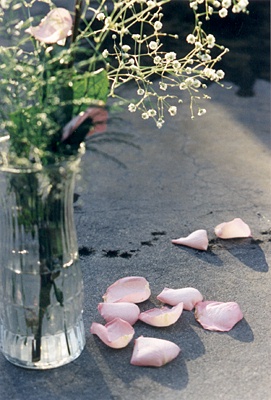 © Mary A., Fullerton, CA