Colors
July 7, 2010
She flopped on to her memory foam mattress in hopes of relaxation. She didn't get it. It was summer time and the leaves on the trees looked like they were painted green, the sky looked like the kind of blue from paint buckets at Low's or Home Depot, the sun was the color of the center of a daisy. It was all too bright for her. She heaved herself up off her bed and went and got a tube of foil from the kitchen cabinet downstairs. "Uh!" she screamed out when she couldn't find the Scotch tape. "Fine you win! I give!" she screamed at her window. "This is unhealthy talking to inanimate objects," she told herself.

She flopped back onto the bed and threw a pillow over her eyes. She hated color she hated brightness. That was until the accident. It happened in late June 2009. Just one year and one month ago. "Brittany! Slow down!" she screamed at her sister. Her sister scoffed and rolled her eyes. "You act like such a baby!"

"Maybe! I just don't want to die Brit!" She looked at the speedometer it read, 105, the silver Porsche was going too fast for her taste. "105? Are you crazy slow down!" her sister turned and looked at her with a skeptical look in her eyes. Just one second and it happened. A Chevy truck slammed in to the Porsche and destroyed the sports car into a ball that looked like the foil she was going to cover her window with. Luckly,nobody died. Brittney escaped with just a broken arm. The same couldn't be said for Angela. She didn't have to put up with bright colors anymore.

She flopped on her bed dropping the cane on the wooden floor next to her she ripped off the black glasses. "I miss color," she yelled in the direction of the window taunting her with the shades of July. She picked up her cane and felt her way toward the stairs. When she reached the kitchen she felt around for the tube of foil and ripped it to shreds and threw it away. "You win!" she wanted to yell at her eyes. She flopped on her bed and remembered the shades of the rainbow.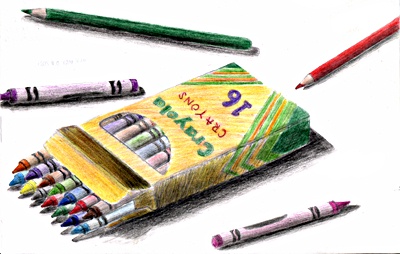 © Dana H., Wichita Falls, TX