55-Word Short Stories
February 3, 2010
-Dance With the Devil
She seemed harmless; that was before she threw her flirtatious eyes at you. She seemed nice; that was before she ignored me, pulling you onto the dance floor. She seemed funny; that was before I realized her humor was spoken for you. You seemed smart; that was before you joined her on the dance floor...

-The Electric Factory
Crowds of heads gather in front of the stage, various perfumes and colognes combining. The curtain drops, the crowd thrusts forward in a sweaty mess. Flashing lights blind retinas and booming bass deafens eardrums. Arms and rock signs flail above heads. The crowd moves like an ocean, dancing underneath a full moon during high tide.

-He Was Right
"Look for the star," he told her. "What?" she replied, puzzled. "Tonight, look for the star," he walked away from her desk. She gathered her things, heading home. Her bedroom quickly comforted her as she bolted up the stairs, away from her abusive parents. The bruises developed, night approached. And then she saw the star.

-The Blind, The Deaf, and The Heartless
All these writers with thoughts and ideas, but only some are heard. All these artists with pictures and imagination, but only some are seen. All these "nerds" with potential and intelligence, but only some are noticed. All these teachers with knowledge and wisdom, but only some get credit. All these words written, but never read.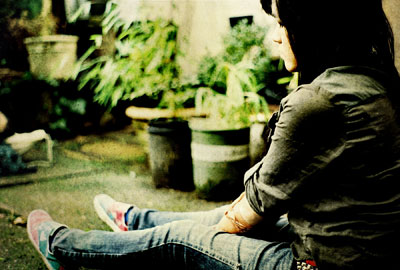 © Hailey J., Lake Oswego, OR