"Up in Flames"
December 20, 2009
When you said you'd stay, did you really mean it? Or was it some ploy to make me feel important, when I was really nothing to you? You held me in your arms, always so strong and secure and whispered words that danced in my ears like a song, lively yet quiet and comforting. You could have held me, loved me all you wanted, and I wouldn't have fought. Your love was a cage, but I threw away the lock.



It's funny how it's so cold after a fire. The red flames dance in the air to an unknown rhythm. They are free, flowing carelessly about the midnight sky covering the stars with their dangerous brilliance.



You were fire. I was the midnight sky.





At first you complimented me, a nice diversion from the constancy of black and diamonds. You lit up all that I had built below me, my entire world that I hovered over like a protective blanket. You jumped and leaped and urged me to do the same, but I was confined to who I was. Everything was perfect, interesting, lively, and exciting.



I could see the way you spread, inflated, began to cover more of me and then even more. Your flames changed to yellows, oranges, blues. Your heat would not cease. What was once careless is now a dangerous, threatening tyranny. And I have no choice but to let you suffocate me.



Everything I love below me turned to ash as you left each monument of myself in complete turmoil. Nothing was recognizable.



I was just your canvas. A pretty thing to overpower and show your brilliance on. Your arms smeared down me, rough and unforgiving. Dripping like paint down the world below me, you used me for a game. The colors of your fire were a collage, oddly mixed together to create a beautiful, lethal mixture down into the depths of my heart.



Piercing screams. Low life moans. Calling out to me, begging me to stop. And I am forced to merely watch as you hold me with unforgiving tenacity.



And it's all my fault.



I have thrown away the lock.



But now you are through; your damage is complete. You have left me, staring at the massacre you molded single-handedly. A massacre that is all my fault.



The diamonds have faded against the smoke that rises up, clogging my memory of what really happened. No longer is my simplicity beautiful, my black has turned to a mixture of leftover reds and blues and a murky gray.



And then with a gust of wind, the heat is swallowed with an indecisive chill that spread throughout me, as if cleaning out all that I was.



But like a silly child refusing to accept the crushing reality, I wonder wistfully, if ever for a moment, you really loved me.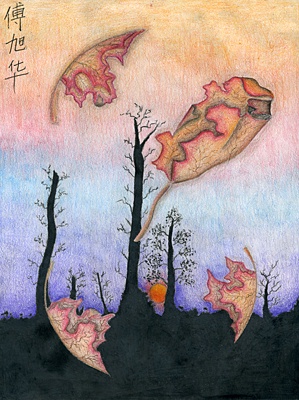 © Becky F., Sacramento, CA