War in a Time of Love
October 24, 2009
Her voice was barely heard over the screaming clash of swords when she cried desperately, "Love is not a war!". Yet the spirit of battle flashed dangerously in his eyes with each slash of his weapon.

"How can you say that?" he screeched over the din of combat. "This is WAR!" His features were demented with the rage of battle and, in a flash of artillery, his face was illuminated. It was then she saw him clearly for the first time; weapon aloft, fury burning him alive, he was his own enemy, and it broke her heart to know it.

The sword in her hands fell heavy to the ground.
"Sometimes, it's alright to lose," she said softly, pleadingly as he advanced upon her.
"No!" He screamed, the passion contorting him. "I must win! I will be victorious!" She knew it all too well to be true and dropped, conquered, to the ground. Silent tears carved tracks in the dirt on her cheeks as she gave up the final battle. She looked up at the man she had once known, once loved.
"No, you will never win," she said simply. His face warped into unspeakable wrath, for he knew ultimately she had not surrendered to him, but to her own struggle to help him, the struggle she now gave up. She watched as he was engulfed by rage and yielded to his steely sword, giving a small utterance of pain as the blade plunged through her. She fell, defeated.
He looked down at what he had done, what he had failed to do. The battle was over, he had seen to that, yet the fire still raged. He was still the monster he had become, yet he was victorious. He was victorious. His sword dripped red and he threw it down to the ground next to his lover's body. He stumbled backwards.
"I am victorious." He mumbled this mantra under his breath, over and over, and yet no matter how many times he did, it bore no truth. He staggered away, alone, to resume life.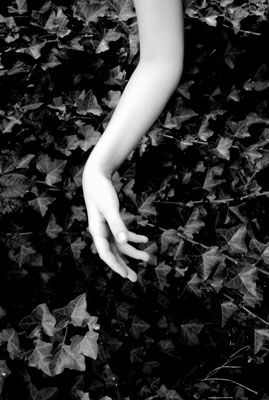 © Sarah M., Blairsville, PA