The Creaky Staircase
July 19, 2009
The creaky staircase has ten rasping stairs that whine:

One. Two. Three…

No matter how hard I try, I can't trick those steps into saying the wrong number. I go from the top to the bottom:

Ten. Nine. Eight…

I skip a step:

One. Three…

I even run up the staircase and it screeches its name in quick, breathy moans:

One two three four…

It's one of those puzzles- a Rubik's Cube, maybe, - that has a fairly simple concept, but no apparent answer. Except for those genius Korean guys who can finish it in fractions of a minute, but when will they ever try to decipher something so trivial, so stupid and trifling, as those ten squeaky stairs?

Every morning, I walk eight blocks to my tedious job, only looking forward to the riddle that awaits me just around the bend. It is right in front of a dilapidated old church; not really the best place for me to get my daily dose of entertainment, but safe enough for me; I'm armed with mace!

As I reach the stairs, I sigh deeply in determination. Today's the day, I say. I'll beat the stairs! I twist my head in both directions warily to make sure no one is watching; it would be pretty embarrassing for a grown woman to be caught playing her own secret little game with a case of wooden steps. I jump daintily to the first stair. One. I choose the next step guardedly, and hop up to it. Four. Now back. Two. It's hopscotch; the stairs the chalk on the scorching summer asphalt, me the little girl in pigtails and a pale pink sundress. I reach the last one; the finale. Get it wrong! Get it wrong…

Ten.

As I land onto sturdy ground, I gawk back at my opponent, frustration perhaps apparent in my eyes. It's stationed there, mocking, laughing. I growl in dissatisfaction. I lost… to a mere staircase! It sounds pathetic, doesn't it, that I can lose anything to some wooden, slightly elevated platforms? Well, you try to defeat this addicting game and see how difficult and nerve-racking it is!

It's not for another eight hours that I play this competition with the creaky staircase. This time, I go backwards, and more quickly. Ten eight six seven five three two ground. I sigh: perfect, of course, again.

This is my schedule for a long stretch of time. My job gets moved, and I even travel out of my way to get to the ten stairs. Obsessive, huh?

I rounded the corner by the ramshackle church one regular Tuesday morning, ready for my test, to see a crew of construction men sporting bright, school-bus yellow helmets. They strung tape the color of their head gear around my challenger: forfeit?

"What's going on here?" I interrogated a statuesque worker.

He looked down at me, rubbing the stubble on his large chin. "Yeah, we are getting' rid of dis here staircase," he replied, a heavy New York accent saturating his voice. "Da city brought da property ovah here, and dey want to change dis to a real church."

Anger surged through me, but I quickly regained my composure. Why should I freak about just some stupid staircase? Wait, what am I saying? This is just no ordinary staircase; it's my friend! It's the staircase that took off the heel of my favorite, (and most expensive,) pair of shoes. The staircase that can call out the names of its stairs with infallible accuracy. And I'm not letting it go without one more game!

I darted past the police tape before the lanky man could protest, hopping the hurdle with surprising ease. Without caring who saw, I landed on the first step. One. Choose carefully… Four. Next: Three. Jump a little farther, now. Seven. Quickly, quickly! Eight nine ten. I alight, rather gracefully, actually, for a woman in high heels, on the pavement, then sprinted around the corner. I stopped by the bakery to catch my breath, still giddy after the extreme yet silly rush of adrenaline.

Yet I lost.

I didn't care; I was proud of the staircase. It had a grand finale, winning its concluding match. Oh, would I miss that relentless puzzle!

In a matter of days, the new set of steps was completed. They were not nearly as fun, oh no, but I would still hop on the stairs and groan in my mind:

Two. Four. Five…

And I always thought; what would the creaky staircase say?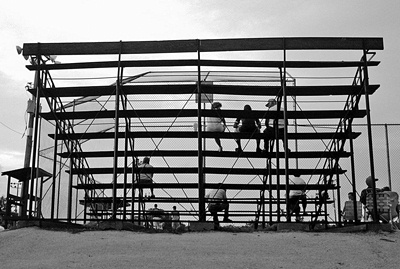 © Katie C., El Dorado Springs, MO