The Father's Watch
June 12, 2021
The spheroid watch stares back at me like a full moon in the midnight sky. The dull ticking echoes in my skull. The luminous numbers on the timepiece are like stars, encompassing the moon's orbicular figure. I fall back onto the bed behind me and inspect the piceous ceiling. The incandescent glow of the vast satellite beams through the unveiled window into my face. I close my eyes, hoping to forget the ache of my childhood mourning, my father's watch still boring a hole in my consciousness.

I eventually force my eyelids open, a silent tear glissading down my cheek. I find myself wondering what it would feel like to once again be enveloped in the warm grip of my father's secure embrace. Last time I had felt loved, I was merely a youngster, all too familiar with the dangers of the outside world. All the able bodied men in our insignificant town had gone off to fight, and my father had been drafted with them, none were experienced combatants. Thirty had gone away, only two returned, resulting in cheerless, bewildered children and heartbroken spouses.

The watch had been a token of his endearing love for me. I took it everywhere, as a sort of lucky talisman, so he would always be close to me. My mother passed on a few years after my father. She used to sit in a lonely, secluded corner of the living room, in a hard, dilapidated old armchair, staring at nothing, as if in another world. Her social life had shrunk profoundly and she never left the house, unless it was summer and she'd request that her chair be moved out to the front porch if it was too hot inside.

When my mother passed, there wasn't much I could do to stop myself from curling up into a 6 foot ball of shaking, sobbing hopelessness. She had passed swiftly and peacefully in her dreams, which was more than I could have asked for. I felt she deserved the tranquility of angelic harmony. I rub the transparent watch face and silently ask my father to take care of her in heaven. I let the darkness enshroud my body and feel it gently drift away into nothingness, letting my mind be carried along by the lingering memories of a contented youth.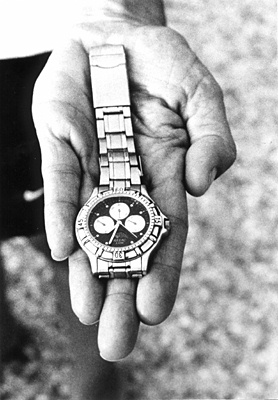 © Nicholas B., Highland Village, TX