Character Flaws
April 29, 2021
An open birdcage sat perched upon a windowsill, but the girl paid no notice. She had no reason to—no reason to do anything. To her, there was no truth, friendship, romance, nor anything at all. "Anything" was less than everything. Everything could be anything, but not just anything would suffice, you see.

She was inferior: a subpar creature in almost every way. There was no place for her, nor would there ever be.

"Sister, we have no time."

"No time?"

"No time."

"No, you must be mistaken; I—"

Silence.

The memory was a fragment; there was nothing to fear. There never was, nor would there be, for that was simply her way of life. She had no fault.

"Her" fault,
was the fault of the moon.

It was a simple yet unbreakable curse—to avoid your wrongdoings, that is. As she buried herself in studies and literature, the world around her ceased to become anything more than a fictitious fantasy.

There was no love.

Love does not exist.

It is but an illusion: a combination of other, more natural, emotions.

"Sister, I'm sorry."

The whole world could burn, and all of humanity along with it. They're parasites—the whole lot. Let them burn. Let them feel what they did to their land. Let them. Let them die—every single last one of them. It's for the greater good. Kill them. Let the ground drench itself in red until the sea becomes land and land becomes sea—a beautiful, scarlet, unforgettable sea—

No.

That was not her.

Golden rays pierced her skin, so she cowered under her covers.

"It's best if we never meet again."

She glanced at her hands, which bore bloodshot eyes stained with charcoal. Mere character flaws—an error in writing?

Was she a puppet of delusion, or a victim of circumstance?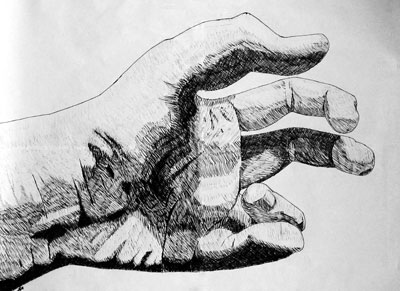 © Luke S., Montclair, NJ