NightStalker Part Four: Chapter Four: Shocking Truth
August 27, 2011
Chapter Four: Shocking Truth

I sat in class, wondering about him, Jadyn Parker. He had so many friends, and I had none.

What was I suppose to say to that? As usual nothing.

I need to get him alone! I thought deviously, just like my father, Nolan Smith. The general of base twenty-one, and hunter of the infamous Nightstalker.

Hes going to find him, Nightstalker, look out because hes coming for you!

Jadyn sat on the other side of what seemed to be the absent-minded Kaylee Smith. He shook his head and continued listening to the teacher babbling on about the Roman culture.

"Ms. Smith! Would you like to answer?" Mrs. Pike suddenly asked.

Kaylee's head shot up in the air. "What was the question again sir?" Kaylee asked feebly.

"What year did the Romans conquer the Greeks?" Mr. Pikes voice rang out.

"I don't know sir" Kaylee said looking down at her desk.

Jadyn shook his head and wrote something on his piece of paper and edged it toward Kaylee.

"Well since it seemed like you weren't paying attention-" Mr. Pike started.

Kaylee looked over at Jadyn's piece of paper. She smiled and said: "148 B.C.".

"What?" Mr. Pike questioned, and stopped pacing.

"148 B.C. sir, that's the answer" Kaylee said slowly.

"Why yes, yes it is. Very good Kaylee" Mr. pike said, still discombobulated.

Then the bell rang.
"Class dismissed!" Mr. pike waved, everyone shot for the door.
Kaylee got up, "Thanks for helping me".
"No problem" Jadyn replied and gathered up his things for his next class.
"Wait" Kaylee said to Jadyn, he froze.
He turned around to look at her.
"Why did you help me?" Kaylee asked.
"Why do you stalk me?" Jadyn shot a question at her.
Kaylee crossed her arms. " Just answer the question!"
"You answer mine" Jadyn shot back.
"You answer first" Kaylee said.
"No, you answer first!" Jadyn told her.
"No" she said.
"No" Jadyn copied her and left the room.
Kaylee blew out a sigh. What was wrong with him!!! Then again, I do kind-of stalk him. . .
Kaylee shook her head.
She followed Jadyn out of the room and to her next class.

Jadyn froze in mid-step, right by the office door, was the red suited man. Though he was not in his military out fit, just simple clothes, jeans ad a t-shirt. And Kaylee was walking up to him. . . calling him dad.

Jadyn froze and thought, Oh my god. . . oh my god.

He slipped to a dark corner and hid there, spying on Kaylee and her dad.

"We need to talk, but not here. Your coming home" Kaylee's dad said.

"No" Kaylee said stepping back. "I have to take a quiz in science today, I can't miss it" Kaylee told him.

"Well you can make it up. We have to go, now!" Kaylee's dad said with force and took Kaylee by the arm and dragged her to a black limo.

"Don't make a scene Kaylee, just get in the car" the dad whispered in her ear.

Kaylee yanked his hand away. " I can walk you know!" Kaylee said and got in the car.

Jadyn ran to the car and got into the trunk, closing the door to be enveloped in darkness.

It was about twenty minutes until, Jadyn had realized they had stopped.

He heard shuffling of feet, and the sound of a door and opening and closing, and he knew that Kaylee and her dad were inside.

Jadyn started reaching for the latch, to push open the door, when suddenly the trunk opened to see a wide eyed shofer.

Jadyn leaped out and tackled him. He pinched the side of his throat, and went down in record time, slumping to the ground heavily.

Jadyn dusted himself off and started to slink over to the shadowed area of trees that was by the entry way.

Somehow Jadyn was going to have to find a way in.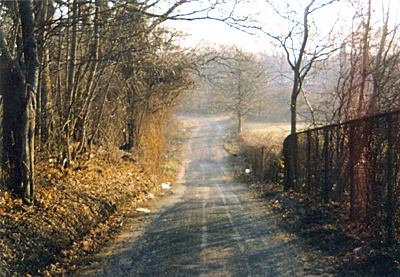 © Cameron C., Milford, CT