Untitled
September 8, 2010
I hate this skin.
It traps me in it's constantly changing barrier. I didn't want this I didn't need this.
Trees speared the landscape thrusting themselves from the winter ground. Holding the night, the last whispers of the darkness, moon and stars. I made barely a sound as I slipped through their watching eyes.
Light bubbled up from the far horizon, pulsing with thoughts of a new day. The ground was blanketed in a plush quilt of snow- patch worked with splotches of dirt and leaves, a window to the bare ground.

My breath came out in steam, slowly climbing away from the world to some unknown place. My gray fur bristled slightly when my sharp ears caught the sound of movement and held it close. The uneven loud footfalls told me it was human as it broke the delicate silence of the forest so dear to me.

I darted through the clearing, every fiber of my body in high alert, nerves twitching with every sound. The scenery melded into a collage of confusing scents and sounds.

I wished so dearly to be human again, to escape to the warm safe house nestled on the lip of the wild dark forest that seemed to compromise a part of me.

Everything in me fought against what I was. Suddenly I felt a cold lurch in my stomach and the next thing I knew I was sprawled on the ground, long black hair entwined with needles and dirt, I had done it. I had shifted.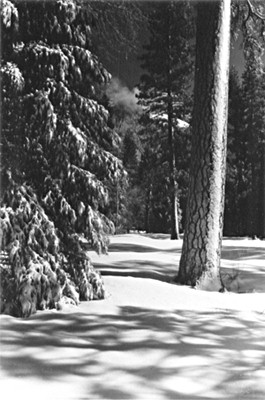 © Steve S., Marblehead, MA