SuperNOVA - Chapter One: "Headline News"
July 8, 2010
"I loved you, you know." I told her, struggling to find my voice. The cold steel of a pistol pressed to the back of my skull was nothing new to me, but this time things were different. Things had finally become personal.

"I know you did," she said as she lowered the handgun. "I'm sorry things have to end this way." She cocked the gun and brought it back into position. I closed my, preparing for the inevitable.

And that's where the memory ends. When the bomb went off seconds later, the scene in the apartment building came to a fiery end. In a bizarre twist of fate, the woman and I were the only two survivors. According to the nurses, my name is John Lange. I take their word for it, because I can't remember anything about my old life, except for those brief moments before the explosion.

It's a curious thing, to your reflection in a mirror for the first time in your life. I don't know who I expected to see staring back, but the man in the mirror wasn't him. My black hair was cropped short in a military grade haircut, and my skin wasn't pale, but it wasn't tan either. My arms were covered in scars that had long since faded away, but the faint lines could still be traced. Most striking of all was my eye color, so pale blue that they appeared grey. I'd never seen anyone else with eyes this shade, and I studied them silently for a long time. The look they cast on others could only be described as war-ravaged, a desperate longing to escape a lifetime of suffering.

But curiously…I was happy. After all, I'd been given a fresh start. I had the rest of my life ahead of me, and there was an entire world out there to re-discover.

They say I am a private investigator, operating in New York. Or I was, at least, before my last case took a turn for the worse and I ended up in the care of Project NOVA. The woman was…is…Fiona Callahan, my ex-wife.

It took me two months to come out of the coma, and I was damn lucky to be alive. My memory was hardly a small price to pay, but it seemed the higher ups at the Project preferred me this way. In their eyes, I was the perfect operative; a blank slate to train, a blank slate who owed them his life. Poor Fiona hadn't yet regained consciousness, but I hadn't given up hope.

I couldn't explain it, the strange sympathy and attachment I felt to a woman like Fiona. I mean, physically, she was beautiful. Her hair was a deep red, which she kept just past shoulder length and straightened. I couldn't remember ever looking her in the eye, but some how I knew her eyes were a bright green.
How Fiona had ever married a guy like me, I'll never know. No, what I didn't understand about my attraction to Fiona was that my only memory of her had been an attempted homicide. The closest thing I could attribute my feelings for Fiona to would be the deluded idea of love at first sight. Obviously, I had once been in love with this woman, and without the memories of whatever happened to drive us apart, I had nothing to hinder the same head over heels feelings we once shared. As a result, I visited her room in the hospital wing every day, just before I hit the bar with my partner, Morty. The doctors said her condition was improving, but I couldn't tell.

"How's the wife?" Morty asked as I took my usual place next to him at the bar, which was located on Project NOVA's grounds. The Project spared no expense when it came to the luxury of its operatives.

"Ex-wife," I reminded him. "She's doing well, I suppose. As well as someone who's comatose can do. But it won't be long before she's joining us for field missions."

"We'll see," he replied.

"What's that supposed to mean?" I asked curiously. Samuel "Morty" Mortimer was my only friend, but even he was a mystery. He had been with the Project for two years already. He rarely talked of his personal life, only once slipping up to mention he had a wife back home. He had gotten even more flustered when I asked him where home was, as if it would even make a difference.

"All I'm saying, John, is that we don't know what she'll be like when and if she awakes. She's been in a coma for six months now." Morty said as he took a sip of his drink. I followed suit, enjoying the refreshing taste of whatever concoction Morty had ordered for me.

"Alright, you win. What's on the agenda tomorrow, Mort?" It was pointless to ask, considering the next day was a Saturday, which is a big deal when it comes to the Project.

"Another civilian mission, and after that I think we've earned some R&R on lazy Sunday." Morty had this tendency to use phrases like 'lazy Sunday', which he claimed was a reference to something that I wouldn't understand. Either way, Sundays were the closest any operatives got to a normal day.

In normal cases, it can take months to fully adjust to Project NOVA's way of life. That was never the case for me, considering I had no life to leave behind. Black suits and white ties every day, limited to no internet access or contact with the outside world, and military grade hair cuts were the ingredients to a normal life for me.

Yes, I was still mostly in the dark about what the Project actually did. Their purpose, along with whatever role I played in it, was on a need to know basis. Apparently, I didn't need to know.

"Mr. Lange?" I turned around to see Doctor Rovin holding a file with my name on it in his hands. Rovin, who was only a couple of years older than me, was one of the higher-ups in the Project. I don't know a lot about him, but it's a safe bet that Rovin wasn't a medical doctor. I'd never seen him in the hospital wing any of the times I'd visited Fiona, that's for sure.

Rovin wore glasses; I wasn't quite sure I believed he needed them. His silvery-grey hair clashed with his otherwise youthful appearance, and he had a reputation among Project NOVA operatives to be the constant bearer of bad news.

"Hey, Doc," I said cautiously, unsure as to what ill news he could have for someone like me. "What's going on?"

"Well, John…do you mind if I call you John?" Without waiting for an answer, Rovin opened the folder he was holding and skimmed it as he continued. "It appears we've had a change in scheduling for you and Mr. Mortimer. Tomorrow you will be joining Mr. Westfield on a high profile mission in Manhattan. An important Presidential candidate will be doing the keynote speech at the International Economic Summit and it will be your squad's duty to ensure everything goes according to plan."

"And what is this 'plan', exactly?"

"Let's just say that we'll make the headline of Sunday's paper," Rovin laughed in an unsettling way. He began to stride down the hallway, still laughing.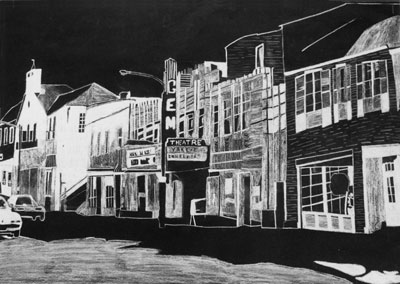 © Chelsea P., Kannapolis, NC