The Last Thirty Seconds
May 12, 2010
It all comes down to this. Me against you. Problem being you're going to win.

The gun is off safety. I feel myself breathe and try not to think how it'll feel to have a little bullet tear through my lungs at a few hundred miles an hour. How I'll die. Your smile is chilling.

It all comes down to this. After six weeks and three thousand miles, the chase is over; I've lost. After a million lies and two other traps very much like this one that I survived to tell the tale- but this time, I don't think I'll make it. This time my hands are tied and any second you're going to pull the trigger.

I rotate my wrists frantically behind my back, but I can feel your gaze. We're alone, the two of us. And soon you'll be the only one.

The world is ending. Maybe not to six point five billion other people, but my world is ending. My personal universe is about to be brought to an abrupt halt, and I'll miss it. I don't want to die. It sounds plaintive, but it's true: I don't want to die.
If only my hands were free. That would be something. But my tugging is futile. I have nothing, almost nothing- all I've got is my own heartbeat and you're about to take that too.

You're saying something. Probably gloating over my defeat. But I'm not listening, I can only hear the blood in my ears. I can only think about whether it'll hurt, can only concentrate on the fact that I've failed.

The moment is rushing closer, I can feel it coming like a freight train that's ready to crush me into a bloody smear along the tracks. Your finger tightens on the trigger. It all comes down to this- and it's over. There's no chance.

And then, with a jolt that makes my already excited heart pound like a timpani, shoves adrenaline through every vein in my body and sends my brain into a perfect storm, I realize my left hand has come free.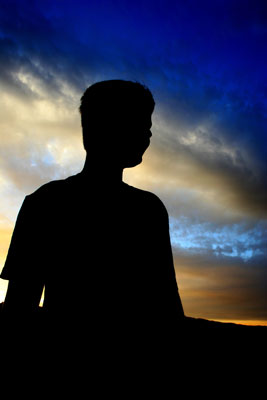 © Monica L., St. George, UT