Unexplored Depths
July 30, 2014
The hunt for the perfect college has led me to one deciding factor: I hope to attend school somewhere near water. A river, a lake, an ocean- any body of water will do. The cities that I fall in love with are the ones reflected at night, doubling their beauty and expanding their presence, as if a parallel universe, both mysterious and wonderful, lived within the depths of the deep blue.

To me, water is more than two hydrogen atoms plus an oxygen one; like people, the poetry matters just as much as the chemical makeup. Staring out at the horizon where the sky meets the water, you can't help but feel something well up inside of you from deep within, a feeling best described as humility, for you realize how small you are in comparison to the big, bright, beautiful world. It is both a fear and a falling in love; it is an infinite appreciation for the universe which has conspired for you to be where you are today.

I felt this way driving across the bridge of the Tamsui River towards my birth city of Taipei, Taiwan, returning to my homeland after an eleven-year hiatus. I had been raised under the dry Texas sun ever since I was a baby, unused to the mountainous terrain and humidity of the country I owed my heritage to. A bubbling anxiety boiled under my skin as I entered my city for the first time. How could I honor my background when I didn't even understand it? Where did I belong if I was a foreigner in my own country? My identity crisis mounted as the capital city loomed closer, enveloping me in a life I had never encountered.

I turned away from the city and looked to my right out across the river. The blaze of city lights glowed softly back at me from the choppy waters, welcoming me to a culture that was both a stranger and a piece of me. Suddenly I found familiarity in the darkness. The enchanting beauty of water would remain the same no matter where in the world I was. From its reflection in the river, I finally saw my city unveiled as it truly was, fierce and alive. I directed my gaze back at the city itself and realized that although I had much to learn about my native country, I couldn't wait to dive beyond the surface and explore its mysterious depths.

Water calms me down. There is peace to be found even in choppy waters and stormy seas. There is joy on a rainy day and there is an eye to every hurricane. No matter what, water will always be a refresher, the coolness of diving into a swimming pool after a Texan summer day. Leaving home to venture out into the world can be a nerve-racking experience, but keeping the sound of waves close by will be like taking a piece of home with me- both a comfort and an inspiration.
Leaving home to live next to the most important river in America would be an absolute dream come true. I hope I will have the opportunity to delve into St. Louis' reservoir of knowledge and discover something about myself along the way.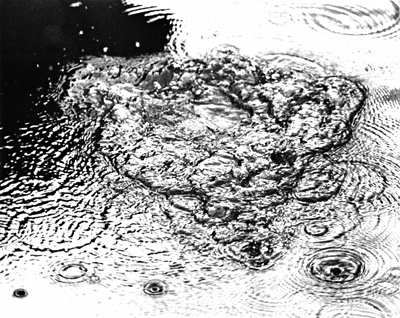 © Christina L., Great Falls, VA