Journalism: The Science of the Mind
September 18, 2013
I never would have thought, in all my seventeen years that seeing my name directly under a newspaper headline could evoke such a powerful sense of fascination. As a high school student with an interest in health care, my forte for writing had taken a side detour and given rise to a captivation with the world of science fairs and biology classrooms.

As I gazed at the page before me however, I became aware that my passion for the pen had been there the whole time, fighting a war with my inner scientist and struggling to be seen among my childhood adventures of analyzing onion peels under microscopes and staying up long after midnight to watch Grey's Anatomy. This awakening, as I soon realized, was merely proof that my attraction to the newsroom of my school, where the award-winning paper is printed, was not and is not a coincidence.

As time passed, I slowly turned this room into a second home, throwing myself in the world of black and white and enjoying a special place that did not smell of methanol or week-old formaldehyde. And as byline after byline was sent to the printer, I learned that journalism and science need not fight in an endless quarrel for survival. Indeed, one only needs to look closely to see that their fundamental principles are almost identical.

My faith in this premature theory was later confirmed when I stepped onto the streets of our nation's capital during this past July, when I represented Connecticut at the Al Neuharth Free Spirit & Journalism Conference. Established by the late founder of USA Today, this program completely revolutionized my New England-molded perception of life and increased my appreciation not only for the media, but the world around me and the safeguard of freedom that America allots.

In five short days, I not only made lifelong friendships with a group of journalists I had never met beforehand, but I also learned that just like a scientist, a reporter is bound by a responsibility to perform his or her job in the name of the common good. Thus, my love for journalism evolved from a simmering ember to a blazing forest fire. And among the heat of it all, I was not the fireman, but the one who lights the match, the catalyst of literary innovation.

Through my independent discussions with famous journalists such as Judy Woodruff, David Gregory and Sara Ganim in the Knight Conference Center of the world-famous Newseum, located in the heart of the city and the main site of our conference, I learned the power that independent thought can have on others. Like science, journalism is a field that is constantly growing, while at the same time serving as an anchor for our society. Journalism, as a science, brings people together and opens our eyes to the world of discovery. But unlike chemistry or biology, journalism does not lend itself to the microscopic level of study. Instead, it embraces life on a large scale, stationing itself in our minds through widely distributed publications such as the New York Times and the reports of field journalists and news broadcasters.

As a science major, I will be required to have an understanding of those around me, as well as an innate ability to address one's individual needs with as little suffering as possible. As Al Neuharth fondly said many times during his legacy, "the best way to understand people is to write about them." I have employed this principle as an Op-Ed Editor for my paper, as a Free Spirit, and as a human being in general. And the best part is that I will never be done learning. There will always be a road to travel, a forest to explore, and a mountain to climb.
And that's just the way I want it.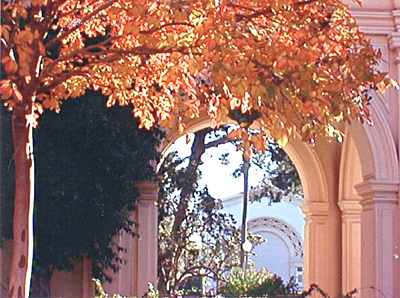 © Rachel B., San Diego, CA