More Than Tea
MAG
"Only little girls have tea parties!" I was 13 years old, in the car pouting and trying everything to get out of this afternoon tea party. It was all my aunt's doing. Little did I know that this would be more than crumpets. Looking back, the tea party allowed me to discover the importance of maturing into a young woman.

Sitting in the kitchen that morning, eating cereal and watching cartoons, I had been warned by my grandma, "Don't eat too much! We will have a large lunch today." Curious, I asked, "Oh, what are we doing?" My grandma smiled and replied, "We are going to a tea party!"

I had the same reaction any normal teenager would, and proclaimed, "But, Grandma, don't you think I'm a little old for a tea party?" My grandma had the tendency to believe I was still seven years old. I hoped maybe she would forget about it, but I was wrong. I was handed my dress and shoes and told to be in the car in 15 minutes, or else.

My aunt and grandmother were really dressed for the part, wearing dresses and frilly matching hats. My grandma pulled out three pairs of white gloves and handed me one. As instructed, I pulled the gloves over my thin arms. Walking slowly as a turtle to the car, all I could do was wonder how bad the day could possibly get.

The church where the tea was held was incredibly stuffy, filled with women in antique hats, musty gloves and all things frilly. I felt like blue shoes on a black suit; I was out of place. The room was filled with the smell of sweet spices, finger sandwiches, scones, crisp white tablecloths and floral arrangements. The dishes were fine china, and the glasses sparkled. I walked with my arms close to my side in fear of breaking anything.

As I took my seat in the cold white garden chair, I surveyed the round table, then saw my china teacup with small pink roses around the top. My grandma and aunt looked at me with big smiles. Faking a return smile, I looked at the fancy agenda with a pink ribbon at the top and frilly fringe around the edges. It listed a few female speakers, and at the bottom, it read "More than a cup of tea!" A yawn, and the clink-clink-clink of glasses interrupted my thoughts as the woman onstage began to introduce herself.

My attention was brought to the tower of plates on each table with a variety of sandwiches, scones and crumpets, and my favorite, chocolate-covered strawberries. Tea and coffee in fine painted china pots were placed on each table. I enjoy tea, and to my surprise found the food delicious (I made sure no one knew this, though). What would people think if they knew I liked to have tea parties at 13?

The first speaker showed us how to hold the cups and eat properly. Then another woman approached the stage and began talking about tea parties. She explained how they were a way for women to come together and share food and conversation. You don't go for the tea; you go for the love and enjoyment of other women. It's a time to share stories and listen to others. "Tea parties are essential in any woman's life!" she promised.

A woman? I never thought of myself as a woman. I was 13; I wanted to be a teenager, not a woman. I wanted to go out and have fun, not grow up and wear smelly hats, but as I looked at my white gloves and the table in front of me, I began to do what I feared most: enjoy it.

Now I realize how important that afternoon was. I officially began to mature from a young girl to a young woman. I realized how important life and family really are. There were three generations of Boyums sitting at the table, and we all shared our stories. Even though the conversations that afternoon were irrelevant, the time spent bonding was not. I learned that growing up is actually a great thing. I looked at my aunt and grandma and saw how life had treated them, and what I was destined for. I became excited to move on in life and be successful like they were. It created the ambition that I have for life.

After that afternoon, we made a promise to have more tea parties. Now for my birthdays, we pull out my teacup collection from the hutch. My grandmother and her sister have passed on to me their teacups, each with its own story. In the hutch, there is a special one with pink roses. Every time I look at it, I am reminded of the special childhood memory and its story: A story of musty white gloves, frilly vintage hats, love, family and the importance of growing up.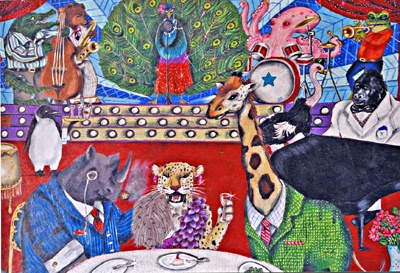 © Anonymous