There's Nothing Like Cerulean
MAG
No matter how old you are, there's something about a box of Crayola crayons. I can't remember the last time I used them. It's been years and years. I was fascinated by them when I was younger, more so than the average child. My art grades in kindergarten were never fantastic because I'd spend three times longer coloring - pressing the crayon into the paper as hard as I could - to get the brightest, most luminous color possible. I was somewhat obsessive over details even then; I detested that grainy, uneven effect one can get with crayons.

Looking back, I think it's bizarre to believe I could end up going to any other high school besides an art one because whenever someone asked me what my favorite color was, I would always answer cerulean.

Understandably, every adult who asked me was bewildered, and somewhat taken aback, so I would have to explain (very slowly, very steadily, so that the silly grown-ups would understand) that cerulean was the most gorgeous, most vibrant shade of blue in that entire 120-something box of crayons.

Those huge sets were wonderful. One went everywhere with me (some things never change; now I drag my art materials). It had a built-in sharpener and held more colors than anyone could ever imagine, vivid, intense shades of sepia, plum, jade and honey bursting out of the box.

The only dilemma was that I'd go through a box in a month, due to wearing down my cerulean crayon to a tiny, truncated stub of wax. Nevertheless, I'd insist on an entirely new box (no matter the shape or size of the other crayons) because at six years old, life without a cerulean crayon was utterly lackluster.

My discovery of crayons also led to new doors swung ajar at the hinges. I sought out those who shared my affection for the medium, those who seemed to revolve solely in an orbit of their own, and I found them. There are certain individuals who can paint pictures with words and others who can tell a story in charcoal and watercolor.

From them, I first learned how to be awed and then how to be fiercely and passionately inspired. They left me with only one thought: I want to be that good some day. I want to be able to make readers fall in love with my stories, whether through quill or paintbrush. I want to be able to make someone breathless with the sight of a wetly gray, gold-lit street bordered with dripping black ink, or an illuminated landscape cloaked in forest green. That too was something I learned from crayons: how to see beauty everywhere I go.

This year, while buying supplies for the new semester, I bought a little pack of 24 crayons with the familiar Crayola logo splashed across its front. It wasn't a big deal; my mom was buying some for my brother, so I threw one more in the basket. They've been buried in my supply drawer behind the stack of Prismacolor markers ever since, though. I never even opened them.

Until tonight.

I thought it would be cool to color my visual arts doodling assignment in crayons so I dug them out and stared down at those perfect new crayon tips pointing skyward, trying to decide which color to use.

There was a particularly vibrant shade that stood out. I thought, It can't be, but gawking open-mouthed, I tapped it free from the box and out slid my cerulean crayon. Apparently, Crayola has grown wiser since my elementary-school years and realized that it is a vital part of the set of 24.

And then I was coloring, in the warm, hazy lamplight on my desk, with the cool breeze wafting in through the curtains. I wasn't pressing down with much force, it wasn't that kind of picture. And somehow, I thought how strange it was that cerulean is just the same as ever, even though I'd changed so much since the last time I slipped it out of a crayon box.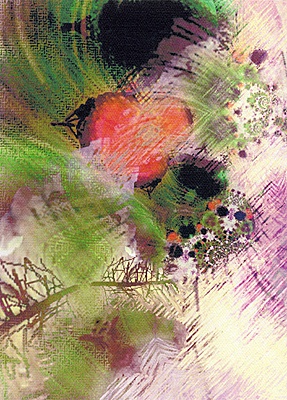 © Anonymous