Half & Half - Behind the Label
MAG
"You mixed?" a girl boldly asked me at my friend's prom. Our eyes met knowingly, and I could tell she already knew the answer.

When I meet a biracial person, I am ecstatic, and we often share our experiences, including the dilemma of having to "choose." Sometimes I find that I can relate to a biracial stranger better than to my own parents. Although I feel an almost poignant vibe when interacting with other biracial individuals, I am also aware that my ethnicity allows me to make greater connections with those from diverse backgrounds.

The product of an African-American father and an Irish-English American mother, one could argue that I've been surrounded by diversity my whole life. Among my brothers and I, there is a blonde, a brunette (me) and a redhead, which never ceases to fascinate friends and family. When my mother's sister inspired my younger brother to pursue a version of the Irish step from "Riverdance," I was "stepping" in an annual Black History Month show. Our family diversity is frequently manifested in foods such as collard greens with Irish soda bread. My background, however, goes beyond food; we sing "The Black National Anthem" in February and whip out shamrocks in March.

Growing up, the frequent requirement of "checking one box" caused me to feel, literally, boxed in, a sentiment I continue to feel when filling out college applications. Being biracial, however, has given me a unique understanding and appreciation of different cultures.

During my involvement in Operation Understanding D.C. (OUDC), I quickly embraced both the black and Jewish members of the group, attending a friend's seder and bringing her to her first Palm Sunday Mass. When all 23 of us marched across Edmund Petus Bridge in Selma, Alabama, retracing the footsteps civil rights marchers took on Bloody Sunday, I fully understood the importance of bridging cultures, and the implications of my existence.

When two worlds collide, however, there are always obstacles. During this tour with OUDC, a guide singled me out saying, "In order to own a store in the black section of Atlanta during this period, one would have to be ... oh, her complexion." As I glanced up from the museum pamphlet, I noted 22 pairs of eyes fixed on my "commendable" light skin tone. Unsure of how to respond, I remained silent, and observed 11 curious faces and 11 assessing glances. Was I supposed to be infuriated that I made the cut for a malicious system of oppression? Should I have explained the history of light skin tone in the black community? Or should I have falsely denied that I, during those days, would have had more opportunities? I decided to accept the past as past, and to condemn a system that had divided the black community.

I frequently find myself in situations where people question my blackness or whiteness, but I've learned that being me, and not a label, will always be a challenge. Mixed, biracial, half-and-half or creamed coffee, however people classify me, I feel an obligation to bridge cultures and promote tolerance and understanding. I hope I may continue to do that at Brown.* -

*It worked! Michelle is now a freshman at Brown University.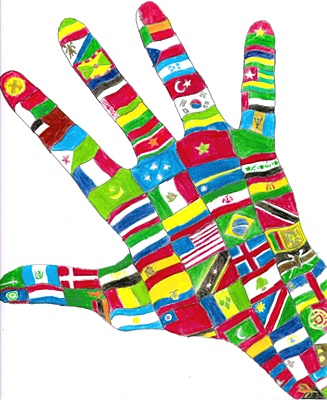 © Anonymous