A House Between the Woods
October 30, 2021
Ignoring the pain of dark branches scraping against my exposed skin, I didn't bother to stop and listen to the whistle of leaves as I sprinted through the vast tangle of trees. Never in my life have I hated the forest so much. A small stream of tears escaped from my weak and weary eyes, blurring the thick blanket of dark dead leaves below me. Tripping over a fallen branch, my body came in hard contact with the ground. Another burst of adrenaline surged through me as I staggered to my feet and continued to run. There was no way I was going to spend a night in this chilling forest. All I could hear was the thumping of my heart as I tried to focus on putting one foot in front of another. I could taste the salty sweat on my tongue, which only made my thirst and the burning sensation in my chest worse. Soon enough I stumbled upon a large house that loomed above my small, shaken body. Collapsing to the dry ground, tears of wet fear came again along with a growing realization to my blurry eyes. I was lost.
The moon was like a glowing lantern in the sky. The sun had long set, and now shiny white specks of paint lighted the dark canvas of sky up above. The house was as big as a mansion. The old wooden front porch stairs creaked as I gently placed my foot on the first step. But then a sharp pain rose up my leg. The old steps gave away under my weight and left shallow red cuts all along my pale left leg. I just sat there, staring for a moment until I came to my senses and started wrapping the cuts with a sleeve of my shirt. Limping over to the door, I noticed that it remained intact, despite how beaten up the house looked from a distance. After knocking a few times, I decided that it was deserted and pulled the door open. The floorboards creaked slightly as I slowly shifted my weight to my other leg, wincing a bit, and started moving forward. Beige wallpaper was peeling off the walls of this forsaken house. I wondered how long it had been uninhabited. Turning around the corner, I found myself in what was once the living room. The next thing I saw froze me in my tracks. Sprawled on top of a rocking chair was a woman's figure with long bleached hair dangling down the back of the chair. Long bangs draped over her face hiding her features. Then she disappeared in the blink of an eye.
I decided to ignore the incident, assuming that my mind was playing tricks on me again. For that moment, there appeared to be no clouds on the horizon. The stairs creaked ever so slightly as I, this time more carefully and gently, made my ascent. Dark hallways were lit by the bright moonlight. Opening door after door; I finally found myself in a plain bedroom with a single, dusty bed. Normally, I would've refused to sleep on anything that grimy; however, this was different, I was tired and would do anything to have a good sleep. After making myself comfortable, I closed my eyes.
After some more tossing and turning, I opened my eyes again. The sight before me terrified me. There stood the woman from earlier, knife in hand, the tip pointing straight at my chest. Every muscle and limb in my body failed me all at once. All I was able to do was suck in a deep breath, and let out a blood-curdling scream as she drove the rusty blade down into my chest. Only then did I catch a glimpse of her ghastly pale skin and deep soulless eyes. This was the end, my whole world went black.
I awoke with a sharp jolt and the sound of footsteps walking up a flight of stairs. My whole body felt numb and light. I smiled, realizing I was home again. I couldn't care less about how I got back here, all I knew was that I was safe. My mother's footsteps reached the door. Upon opening the door the sight before her left her screaming and falling to the floor, crying. I tried to speak to her, ask her what was wrong, but I could not force any air out of my mouth. Then I started to reach for the covers, only to have my empty hand be met with air. I didn't just feel numb, it felt as if I was floating. I spun myself around, only to have my eyes locked in place with my own dark lifeless eyes, dark red blood staining my white silky nightdress.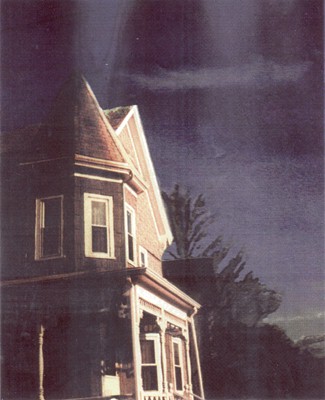 © Elyse G., Wilmington, MA